Team Bermuda Wore Shorts To The Olympic Opening Ceremony & Twitter Is Freezing For Them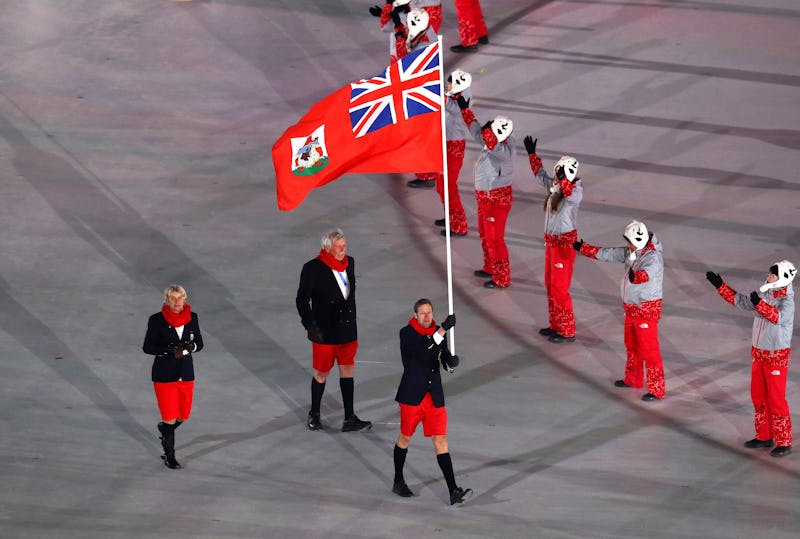 Dean Mouhtaropoulos/Getty Images Sport/Getty Images
The Olympic opening ceremony is a chance for each country to celebrate their nation through fashion. When first appearing as a team at the games, all eyes are on what the athletes are wearing to represent the place they call home. For Team Bermuda, that means putting on some iconic Bermuda shorts. Yes, even for the Winter Games in chilly PyeongChang, South Korea. Yikes.
When the three members of Team Bermuda were announced during the opening ceremony for the Winter Games, all eyes were immediately on their red shorts that hit right above the knee. The team wears red Bermuda shorts each Olympic games to pay tribute to the sartorial legacy of the nation. The shorts are always red in color, represent the hue most present on Bermuda's flag.
Though the athletes also wore red scarves, toasty blue blazers, and knee high blue socks, they were certainly left out in the cold while paying tribute to the short trousers Bermuda is known for popularizing. Twitter quickly took notice of the unfortunate apparel given the climate — and they didn't hold back in giving their unfiltered opinions.
Olympic revelers immediately took to social media to express their solidarity with Team Bermuda and their chilly, chilly knees. Many even proposed all three members need gold medals already for their act of style strength. Given the fashion choice, one thing is for sure: Team Bermuda is definitely the most fearless team at the Olympics.
This is the exact reaction everyone had. Their poor knees must be so, so cold. No one is envying Team Bermuda today.
Yes, this happens every single Olympics. And the winter athletes must have nightmares for four whole years waiting for this fashion moment.
Team USA's look included coats that acted as personalized heating systems controlled by each athlete's cell phone. Pretty high tech and toasty. Bermuda's outfits? Not so much.
I mean, the shorts aren't unfashionable. They just should be made out of insulated materials.
Now that's what I call national pride. Bermuda shorts forever.
The competitions may not have even started yey, but all three of these true champs deserve to win gold for braving 20 degree weather in shorts. Just give them all the damn medals.
This is the most patriotic thing I've ever seen, to be honest. Slay, Team Bermuda. Slay.
I bet Team Bermuda is wishing their country was known for parkas right about now.
Truer words have never been spoken. The world loves you, Bermuda. And your unwavering dedication to Bermuda shorts.
Truth be told, Bermuda shorts actually weren't even created in Bermuda. They were first dreamed up by the British Royal Army to wear in warmer climates when full-length trousers just weren't practical. During World War II, there was a shortage of clothing in Bermuda. Banks in Bermuda were reportedly concerned their employees would not have suitable clothing to wear to work, so they made uniforms to given out to employees modeled after British Army uniforms, which were suitable for the climate but also professional. The shorts handed out to employees became widely accepted as business attire in Bermuda — and they still are today.
Bermuda shorts are so much more popular in the nation than in Great Britain, hence why we are not calling them "British shorts" right about now.
No matter the origins of Bermuda shorts, they are iconic preppy style and synonymous with the nation of Bermuda. To pay tribute to the sartorial legacy, the athletes from Bermuda wear red shorts every single Olympic games.
For that, the winter athletes deserve a round of applause. And maybe a blanket.