Ted Cruz Tweeted A Zodiac Killer Joke For Halloween & It Backfired So Spectacularly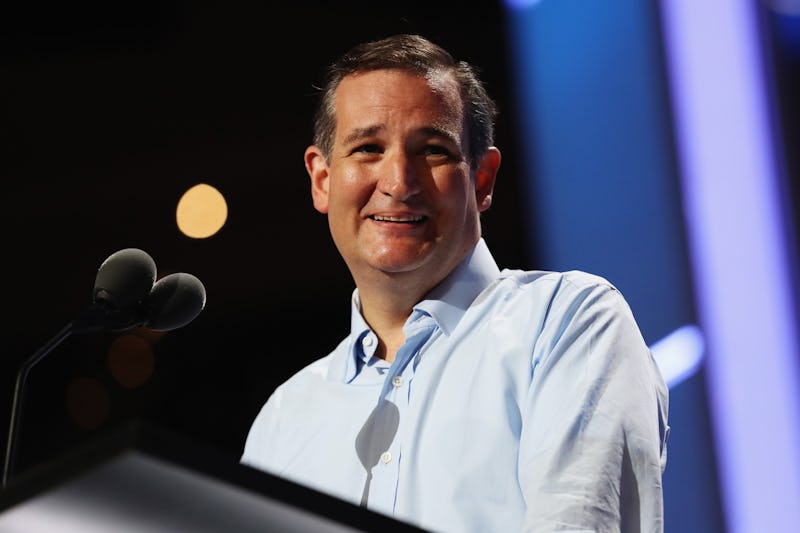 John Moore/Getty Images News/Getty Images
In an apparent attempt at poking fun at himself, Texas Sen. Ted Cruz sent a Zodiac Killer tweet on Halloween. It was a reference to a long-running meme about the junior Senator from Texas, but the joke didn't quite land, and in fact backfired spectacularly shortly after Cruz made it.
"Happy Halloween," Cruz wrote on Wednesday, with a picture of a cipher attached to the tweet. Almost immediately, Twitter began mocking him.
A lot of context is necessary here. In the 1960s and 1970s, a serial killer terrorized the Bay Area, and as part of his modus operandi, he sent mysterious letters full of cryptic symbols to local reporters. The murderer was nicknamed the "Zodiac Killer," because he used the Zodiac sign a the end of their letters. His identity remains unknown to this day.
Fast-forward several decades to 2013. Cruz had just been elected to represent Texas in the Senate, and on Twitter, some people began joking that he was secretly the Zodiac Killer. Although it's not entirely clear what gave birth to this joke, NPR reported in 2016 that it's a reference to the viscerally creepy vibe that Cruz gives off to many observers.
Just to be entirely clear about this, Cruz is most definitely not the Zodiac Killer; he was born in 1970, after the killings had already begun. Nevertheless, the meme picked up some serious steam. It's been been the subject of books, T-shirts, and even a joke by Larry Wilmore at the White House Correspondents Dinner. In February 2016, typing "is Ted" into Google's search bar produced "is Ted Cruz the Zodiac Killer" as one of the top auto-complete suggestions, according to NPR.
Which brings us to Cruz's Halloween tweet. Alongside the innocuous "Happy Halloween" message, Cruz attached a picture of a cipher similar to the ones that the Zodiac Killer sent out — a clear reference to the meme.
Twitter was not pleased, however. Many noted that it was the second year in a row that Cruz made this joke, while some pointed out that the senator was effectively making light of an open investigation into a serial killer. Others felt that the joke simply wasn't funny, or used the opportunity to criticize Cruz's policies.
"Sitting US Senator cracking jokes about being the unapprehended killer of 5 people, including one 16 year-old girl," Dan O'Sullivan wrote in response.
"Ted Cruz is the only person who pretends to be a serial killer to be MORE likable," Jess Dweck joked, a reference to Cruz's tight reelection race with Democrat Beto O'Rourke.
"I get it," atheist writer Hemant Mehta tweeted. "The joke is that lots of people could die, like the victims of the Zodiac Killer, after Ted Cruz votes to eliminate coverage for pre-existing conditions. #VoteForBeto"
"i cracked the code," wrote "Pod Save America" producer Travis Helwig tweeted. "it says 'im [sic] unlikable'"
In a 2016 poll, 10 percent of Florida Republicans said that they do actually believe Cruz is the Zodiac Killer, while another 28 percent were undecided one way or the other.