Milania Giudice Has Released An Album & She Has Fetty Wap's Full Support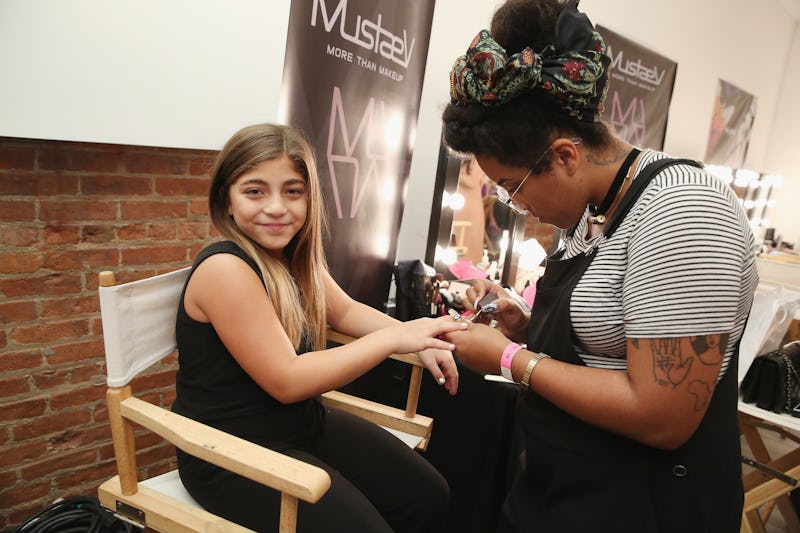 Mireya Acierto/Getty Images Entertainment/Getty Images
Watch out Mariah Carey and Christina Aguilera, because there's a new diva in town. Teresa Giudice's daughter Milana released an album, Page Six reported Thursday. Apparently, she is fully embracing her pop star talents and recorded an entire record. As a celebration, Page Six reports she even threw an album release party on Wednesday, which was such a huge event that Fetty Wap made an appearance. That's right, 12-year-old Milania is already so major she somehow got the "Trap Queen" rapper to join her event.
An insider who spoke with Page Six said rapper Fat Boy was in attendance and that he had a special guest for the Real Housewives of New Jersey star, who was none other than Fetty Wap. The insider dished, "Fetty Wap is her idol. She idolizes him and he was there." Knowing Teresa, she probably worked her magic to get Fetty Wap to come, because she'll do anything for her children.
According to Page Six, Melissa Gorga posted a photo of her three kids and Fetty Wap on her Instagram Story, but it's obviously no longer there since stories only last for 24 hours. You can check out the image of the rapper, Antonia, Gino, and Joey Gorga over at Page Six.
Page Six's source also said Bravo cameras were rolling and, if so, then that means RHONJ viewers will probably get to see Milania's musical debut. Let's keep those fingers crossed the album release party was filmed, because footage of Milania on stage and Fetty Wap showing up needs to be seen.
It's unclear what kind of music Milania does or what her album is called, but knowing her, the title is most likely sassy.
Music runs in Milania's family. First, there is her eldest sister, Gia Giudice. She briefly pursued a musical career. It's unclear if music is still an interest for Gia, but at one point she released a music video covering Britney Spears' "Circus" with her band 3KT, which stands for "3 Karat Diamonds".
The video was released in October 2014 when Gia was 13. At the time of its release, Radar Online reported Teresa dropped $10,000 on it. According to E! News, the video only cost $5,000 to make and sources said 3KT's management company paid for it all.
In December 2014, 3KT also released a holiday song and video called "Season of Joy". They also started a Kickstarter fundraising campaign to raise money for the video. Originally, they wanted to raise $7,500, but the campaign was canceled for unknown reasons before reaching its goal.
Then, there is Milania's aunt, Melissa. She's recorded several of her own songs, which were featured on RHONJ. Of course, there was her first single, "On Display", which fans will never forget. She also released "I Just Wanna", which also has a music video.
Ever since Melissa joined RHONJ, she made it clear how much she loves music. "Well here we go, here comes the singing! I still can't believe it's all happening," she wrote in a June 2011 blog for the show. "Music was my first love! I could remember being in elementary school and loving music class so much. I would make excuses to just walk back in the classroom, I would purposely forget things, I would bring the teacher cupcakes, anything I could do to go back."
Of course, now, Melissa is focused on fashion and Envy, her boutique, but she could always return to music. "It's crazy how many people ask me that," she told All About The Real Housewives in August 2016. "That was a time in my life that I absolutely loved; I couldn't be happier to have had multiple songs on the dance charts. Right now, it just makes more sense for me to do things that keep me in the state of New Jersey, but I never say never."
And now Milania is following in both Gia and Melissa's footsteps. She even made a cameo in 3KT's "Circus" video, so she's been destined for a music career for awhile now. Who knows, maybe there will soon be a Milania and Fetty Wap collaboration.