Why Teresa & Her Brother's Fight On 'RHONJ' Means Trouble For Her & Melissa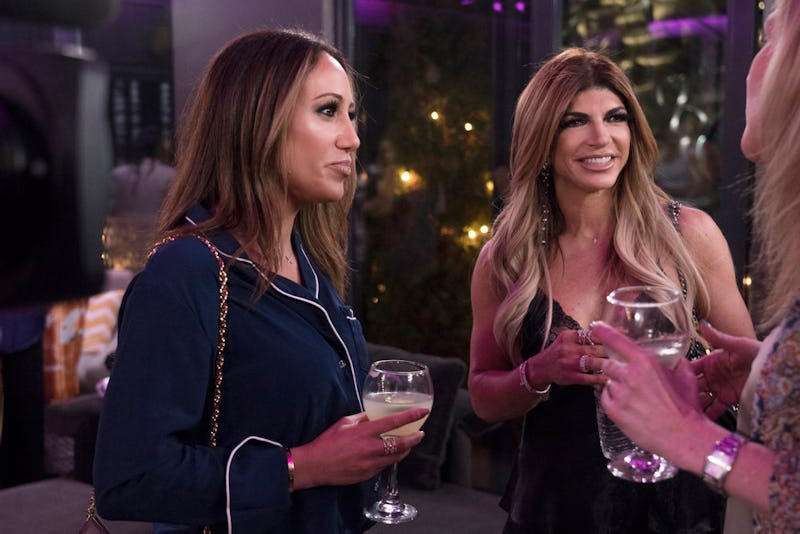 Greg Endries/Bravo
Family stuff can be tough, but it's even harder when it's not your own family! Teresa Giudice and Joe Gorga have had their share of family fights over the years on Real Housewives Of New Jersey, and in Season 9, those same fights are rearing their ugly heads yet again. Teresa and Joe's relationship on RHONJ looks strained at the beginning of Season 9, and from what we've seen of the previews for the rest of the season, it has to get worse before it gets better.
Teresa and Joe's mother, Antonia, recently passed away, and their dad, Giacinto, is still, obviously, mourning the loss. The whole family is. Teresa's husband, Joe, is in prison, and Giacino is living with Teresa's family while he grieves and also to help out with Teresa's daughters — it's an arrangement that makes sense for this family, who has had a lot of ups and downs over the years.
Giacinto, though, complains often that Joe only calls or see his father once every few weeks — in fact, from clips on the show, it seems like Teresa and her daughters never hear the end of the complaining. Joe was around more often right when Antonia passed away, but recently, there's been a distinct drop off in communication. Giacinto wants his son to acknowledge him, is all.
Joe's argument for not seeing or talking to his father as often as his father would like is that he works. He works "16 hours a day," he says, breaking his back to provide for his family. That is all well and good, but how much effort does a phone call really take? That's Teresa's argument (and this writer's, too, to be fair) — she needs help. She needs her brother to lighten the load with her father. Even Gia steps in to tell her uncle that she's sick of handling nonno's complaints.
And of course, Joe maintains that he is right and that he doesn't have to fulfill the same familial obligations that Teresa does, and it goes around and around and around. Melissa, Joe's wife, is stuck in the middle, because Teresa thinks she should "control her husband" (as if that could ever happen) and Melissa is all, "this isn't my family, this isn't my fight." Melissa is right — family politics are complicated, so the impetus isn't on Melissa to get her husband to do what Teresa wants. Any fight that Teresa has with Joe is between Teresa and Joe.
In first looks for the rest of the season, this fight seems to morph more into something between Melissa and Teresa. But again, it's not up to Melissa to make Joe do anything, and Teresa is wrong in expecting Melissa to do her dirty work for her. This is the kind of stuff that tears families apart, so it's important that they work it out together. Of the disagreements this season, Melissa told Cosmopolitan, "Teresa and I, we are family, but we have different ways of approaching things, so we do butt heads...as I think a lot of sister-in-laws do. But we're at that point where we are a family, and we're not going to break the way we did before."
While we haven't seen all of Season 9 and how this argument all plays out, Joe and Teresa are still having their moments. In an interview with People, Teresa admitted that she was angry with her brother when he revealed to Gia, Teresa's eldest daughter, that her father, Joe, was set to be deported back to his native Italy. "I was pretty annoyed at him at first," she said. Joe did apologize, thankfully, which is good. Given everything that's happening to this family, Teresa and her brother need to stick together.