Thandie Newton Was Reportedly Excluded From The Time's Up Movement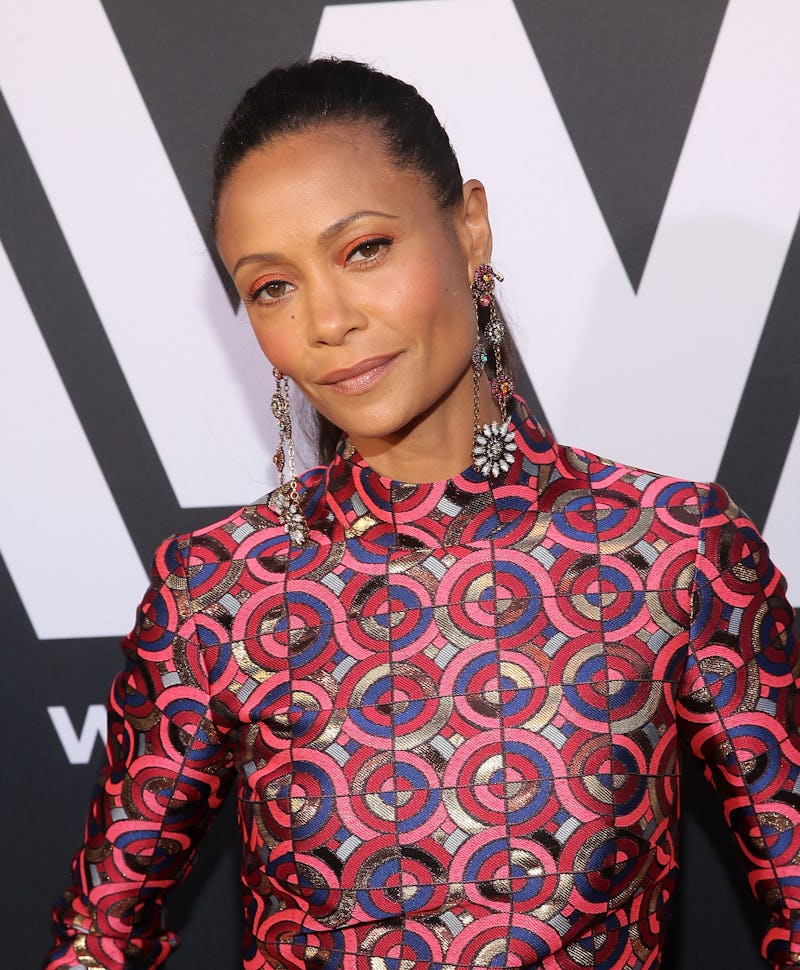 Jesse Grant/Getty Images Entertainment/Getty Images
Though the Time's Up Movement has focused on bringing attention to sexual misconduct and gender discrimination in many workplaces, the Hollywood women-led organization was reportedly not as inclusive as it could be. In a new interview with the Australian outlet News Corp, Thandie Newton claims the Time's Up movement excluded her. The Westworld actor has long been open about her own #MeToo experience. For years, she has alleged that an unnamed director sexually abused her during an audition when she was a teenager. However, Newton claims, per Vulture, that the people behind the Time's Up movement shut her out from participating when she sought to contribute her voice. (Bustle reached out to Time Up's representatives, but has not yet received a response.)
Newton reportedly told News Corp that she "wasn't hot enough" to be included in Time's Up. She added,
"I wasn't mainstream enough and I wasn't going to be at the Oscars this year, even though I am having a renaissance in my career."
She explained that she was hurt by this alleged lack of acknowledgement, especially because she refers to feeling "ostracized" by Hollywood after she came forward with her story. However, despite any career pushback she got for being vocal about her trauma, she told the outlet that sharing her story was always worth it to her. "I felt if there was one girl whose family was thinking about putting their child into show business, that would help them decide," she said. "That was all I cared about."
Newton alleges that when she was 18-years-old she was abused by a director during a second audition. The British actor has been vocal about telling her story long before the #MeToo movement began. She made waves when she told her "casting couch" story on CNN in 2013, and she has continued to tell her story in hopes that it might help young actors starting out in the business understand the difference between a normal audition request and one that crosses a line.
The Time's Up anti-harassment initiative was announced on January 1. The project was started by 300 women in the entertainment industry, following an outpouring of stories from women alleging sexual misconduct in Hollywood. The organization works to raise money for legal funds for people facing harassment and abuse in the workforce, particularly for women working in low-wage fields, which are disproportionately affected by these issues. The mission statement on the official website reads:
"Now, unlike ever before, our access to the media and to important decision makers has the potential of leading to real accountability and consequences. We want all survivors of sexual harassment, everywhere, to be heard, to be believed, and to know that accountability is possible."
It is surprising that Newton was reportedly left out of this project, especially given how open she has been about her experience, and the trouble she had being ostracized for coming forward. Newton's story is certainly an example of a woman being abused by those in power, and it sounds like she was willing to offer her time to champion a movement that's meant to help all women.
Though Newton mentioned that she believes she "wasn't mainstream enough" to be included, she has had a great decades-spanning career. In addition to appearing in movies like Oscar-winner Crash and blockbusters like Mission Impossible II, she has a lead role in HBO's popular genre-defying series Westworld.
She recently told Vanity Fair that she's even receiving equal pay for the show's third season. In previous seasons she and co-star Evan Rachel Wood were paid less money than their male counterparts, Anthony Hopkins and Ed Harris, but HBO has since rectified that. Though Newton probably would have preferred to have her story told in the bigger narrative, it's nice to see at least one injustice has been taken care of.
If you or someone you know has been sexually assaulted, call the National Sexual Assault Telephone Hotline at 800-656-HOPE (4673) or visit online.rainn.org.