From Cleansers To Oils, These Topical Probiotics Could Be The Key To Your Best Skin Ever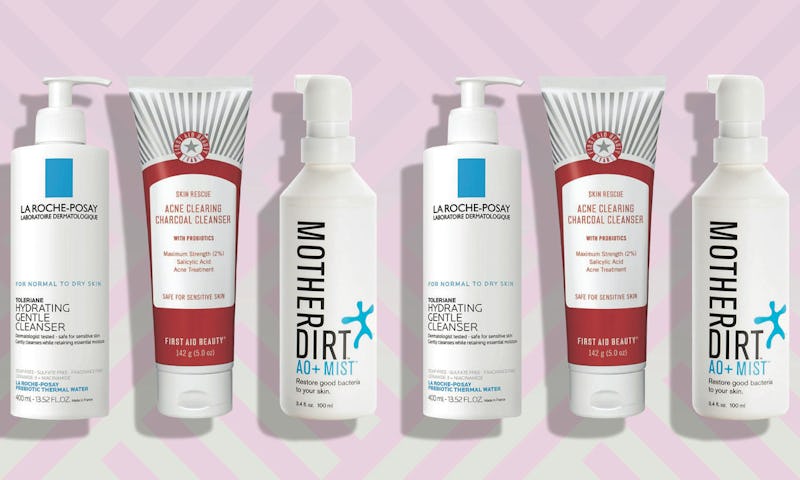 Bustle/Amazon
Topical probiotics are to your skin as oral probiotics are to your gut. To more thoroughly parse this SAT-inspired analogy, your skin has a microbiome — a diverse network of healthy bacteria — just like your gut has a microbiome of its own. And a balanced skin microbiome keeps your skin in good working order, just like a balanced gut microbiome keeps things moving in your digestive system, to be genteel about it. The best topical probiotics, or skin care products infused with good bacteria, are designed to maintain order to the former.
"[Topical] probiotics supply the skin with cohorts of friendly bacteria, or promote their growth by supplying the nutrients those bacteria need to grow and thrive," NYC-based dermatologist Dr. Kenneth Howe tells Bustle. To clarify, the former are called probiotics, which mimic the function of healthy bacteria already present in your skin microbiome; and the latter are called prebiotics. You'll see either term on product labels, but both fall under the "topical probiotic" umbrella, and both help balance your microbiome.
One way topical probiotics contribute to overall skin health is by strengthening your skin's natural protective barrier. When intact, your skin barrier keeps the good stuff in — namely, moisture — and the bad stuff out, like aggressors that can cause rosacea, acne, and other forms of inflammation. And beyond not being red, inflamed, and dehydrated, that stronger skin will look firmer and more radiant, too.
That's in addition to all the other benefits you'll get from your topical probiotics, whether they're cleansing your face, brightening your under eyes, or purging your pimples. Find all that and more in this roundup of the 10 best topical probiotics, ahead.
(Interested in more topical probiotics? Then check out these other great skin care products with probiotics, here.)
We only recommend products we love and that we think you will, too. We may receive a portion of sales from products purchased from this article, which was written by our Commerce team.