The Best Skin Care Products With Probiotics, The Beauty Industry's Newest "It" Ingredient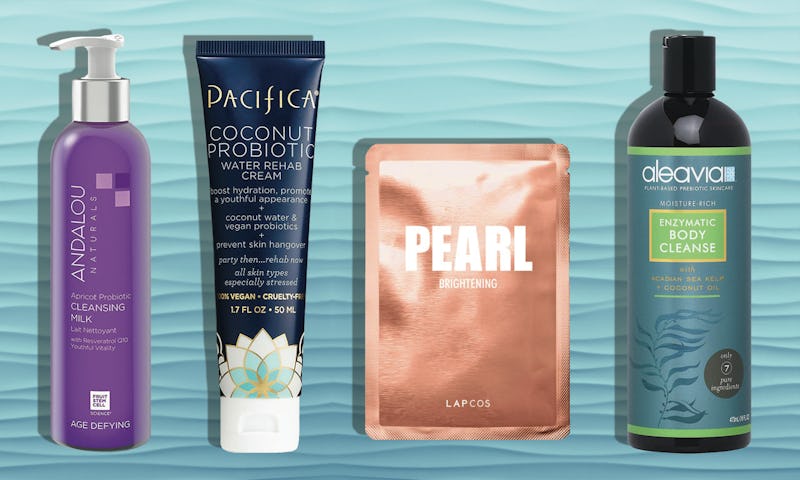 Bustle/Amazon
When you start obsessing over skin care products, it can be dangerously easy to start believing that your skin is lacking in some way; not glowy enough, not firm enough, not clear enough, not clean enough. But your skin's microbiome proves that your body is preloaded with all the right stuff to achieve perfectly balanced skin — you just need to learn how to work with that stuff, not against it. That's exactly what the best skin care products with probiotics do.
But first, some science. Your microbiome is a huge, diverse network of microorganisms that protect your skin from harmful bacteria, both innate and environmental. According to New York dermatologist Dr. Kenneth Howe, with whom I spoke for this article, if your microbiome becomes unbalanced, "the normal healthy functioning of the skin is impaired" and "bad" bacteria proliferates. In turn, that overgrowth can contribute to conditions like eczema, psoriasis, acne, and inflammation. An imbalanced microbiome also compromises the skin's natural protective barrier, which is responsible for locking in moisture.
"Having enough of the right 'friendly' bacteria on our skin helps prevent infections," Dr. Howe explains. "These good bacteria ward off 'bad' or pathogenic bacteria by competing with them for food and living space on the skin, or by secreting substances that inhibit the reproduction of potentially pathogenic bacteria."
Probiotic skin care products work to restore and recalibrate your microbiome to its peak performance level, either by feeding that good bacteria (technically, these are labelled "prebiotics"), or by mimicking the behavior of good bacteria ("postbiotics"). With your skin flora in check, you'll experience fewer breakouts and inflammation, and more natural hydration and luminosity.
I also got in touch with Dr. Roshini Raj, a practicing gastroenterologist at New York University and founder of TULA, a probiotic skin care line. She assures me that probiotic skin care products are safe for all skin types, including acne-prone and hyper-sensitive skin. As with any other skin care product, Dr. Raj says that people with finicky skin types should simply pay extra attention to the ingredients list.
"Consumers with sensitive skin should look for calming ingredients like colloidal oatmeal, cucumber, and ginger while avoiding fragrances," she says. "And people with acne-prone skin should look for effective ingredients like salicylic acid, benzoyl peroxide, and licorice root, while also avoiding alcohol and fragrances." But because probiotics are so effective at both reducing inflammation and locking in moisture, they can target any skin care concern. They just make your skin healthier, period.
In other words, probiotic skin care does the same thing for your skin microbiome that kimchi, sauerkraut, and other fermented foods do for your gut microbiome — and probiotic skin care is pretty quickly becoming as popular as kombucha. From a cleanser to a body wash to a brightening eye cream, here are just five of the best probiotic skin care products you can get right now.