The 10 Latinx Classics I'm Reading To Help Connect Me To My Heritage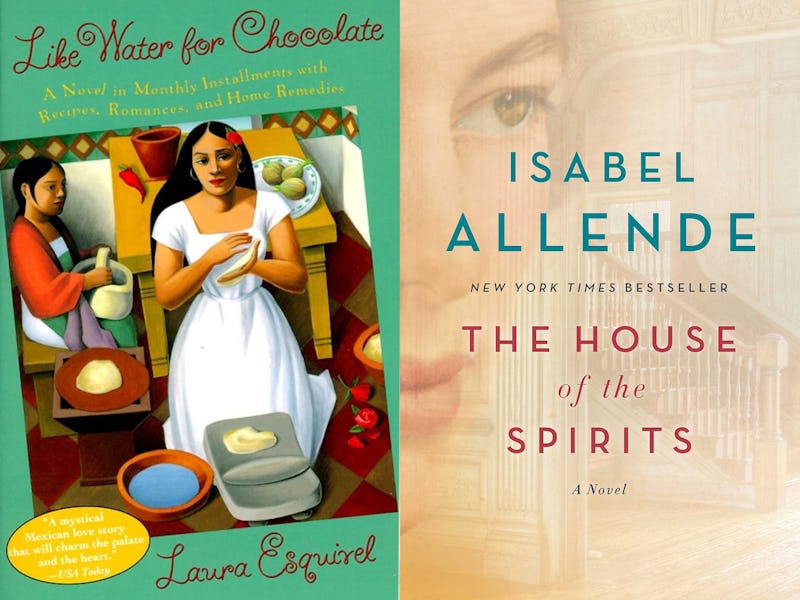 A few months ago, I wrote about why I want to read more classic books by Latinx authors. I had been thinking a lot about what it means to be Latinx in America right now; and more specifically in my case, what my place is as a white, non-Spanish speaking Latina. Of course, as introspection so often does, it led me to books and to using them as a way that I can continue to connect more to my heritage. Especially now, with a need for diversity, pride and respect for different cultures like never before (just google the Trump administration's stance on DACA and you'll see why this has increasingly become so important to me.)
Writing that essay inspired me more than ever to pick up books by Latinx authors that I had somehow missed; as a way to celebrate the creative contributions of the Latinx community while every day, the real-world labors we perform have been belittled and disregarded as more and more attempt to shun immigrants from the country that they love, helped build, and continue to insure thrives. Admittedly, though, in the two months since I wrote that piece, I still haven't picked up a single one.
Yes, I've read new books by Latinx authors this year which I've adored; Adam Silvera's They Both Die At The End, Daniel Jose Older's Shadowshaper, Zoraida Cordova's Labyrinth Lost, Celia C. Perez's The First Rule of Punk and Lilliam Rivera's The Education of Margot Sanchez, just to name a few. But it is important to me to pick up those books that have already helped lay the foundation for the work authors like Silvera and Rivera are doing now, books that have become a shared experience within the Latinx reading community.
With the fall season rapidly approaching, it's natural to start looking toward the end of 2017. And I thought it was probably about time I started making an actual plan for getting these books read sooner rather than later. So I sat down and asked myself what I wanted from the books I planned to read. The criteria I came up with for picking a Top 10 Priority list is as follows:
A Majority of Female Authors: Not only do I tend to read, and enjoy, more books my female authors, but it is the black and brown women among us who are most often silenced. I want to make sure that is never the case in my own reading, and life.
No Repeating Authors: Though there are multiple books by multiple Latinx authors I want to read, I made sure that the priority list had a plethora of voices from within the Latinx community and diverse points of view. This also allowed me the space to add in a few memoirs and even a poetry collection among the fiction.
Only Books That Could Be Considered "Classics": I made a rough rule of choosing only books that were at least 10 years old, and ones that have become mainstays in the world of Latinx literature.
Whether you're feeling like me and are also hoping to complete a Latinx reads challenge, or you want to start one including books by authors from your own culture, or, perhaps even better, you want to create a must-read list of books by authors from multiple diverse cultures, making some brief guidelines like these can be a great way to focus in on your reading goals and expectations. I think that this challenge will only be more rewarding because I've fully thought about the reasons I am doing it.
OK, so what books did I finally settle on? Check out my list below:
I don't have any sort of strict timeframe on getting these books read; though I would love to get to a couple before the year is over. I don't think I need to repeat how important I think it is for everyone to read more diversely; and to read more books by Latinx writers. Amplifying minority voices right now should be the goal, and the expectation of so much of our reading (and everything we do) moving forward. So, I hope you'll join me in picking up a few of these celebrated reads...and even in making a list of your own. Let's spread pride in our cultures, and ensure that no one ever succeeds in erasing them.