These Are The Absolute Best Disney Accessories The Internet Has To Offer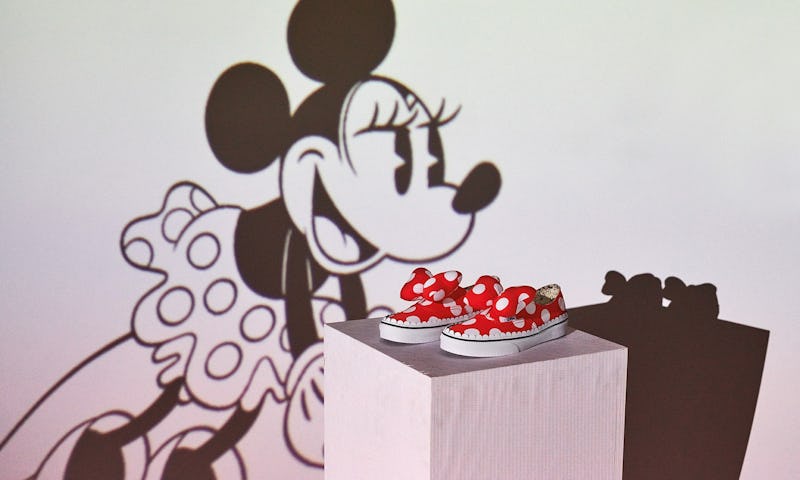 Courtesy of Vans
Disney diehards don't have to search far and wide — at all — to find accessories or apparel boasting their favorite characters from the Walt Disney universe. Disney merch and Disney collabs are everywhere. From Mickey and Minnie Mouse, who are celebrating their 90th anniversary to the creepy cool creatures of The Nightmare Before Christmas to the adjacent Star Wars galaxy, there is a wealth of Disney designs for your OOTD and to Disney-fiy your personal style.
It's a difficult task to sift through all of the Disney "stuff" available for the taking and accessorizing and to make a choice about what to buy without going broke.
There's the Snow White x Besame makeup collection, which includes cute and totable makeup bags and the loveliest vintage scarf. There is the TOMS x Disney Princess shoes and sun-and-eyeglasses range, which is enjoying a holiday reprise with some new products as part of the Extra Magical Capsule.
There is also the Disney x Vans clothing and footwear capsule and the Kate Spade New York bag collection that is only available at Disney Parks.
In order to help you prioritize, these 11 Disney accessories are the most wearable and stylish. They will satisfy the most diehard Disney fans. They will also add a dose of cuteness and fun to the OOTD of even the most casual fan.
1. Vans x Disney Slip-On Sneakers
2. Kate Spade x Disney Parks Bags
3. Danielle Nicole x Peter Pan Travel Bag
4. RockLove x Snow White
‌5. RockLove x A Nightmare Before Christmas
‌6. Swarovski Mickey + Minnie Bracelet
‌7. Swarovski Mickey + Minnie Earrings
8. Besame Cosmetics x Snow White Apple Blossom Scarf
9. Beats x Mickey Mouse
10. TOMS x Disney Snow White Sneakers
11. TOMS x Disney Silver Glitter Cinderella Sneakers
Go forth and accessorize in Disney style — from the top of your head to your toes.