15 Off The Shoulder Prom Dresses To Wear This Year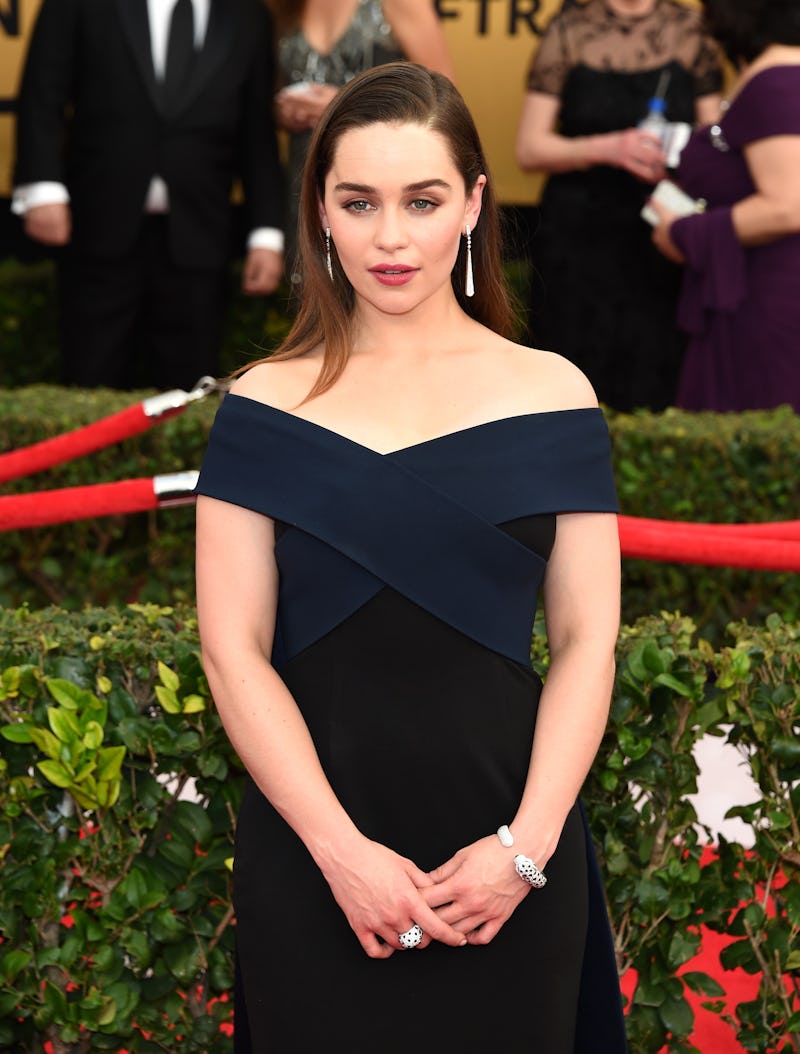 Ethan Miller/Getty Images Entertainment/Getty Images
When it comes to current trends, it doesn't get much more popular than the Bardot neckline — they're absolutely everywhere right now. So, following that logic, it's just about time to start scoping out all of the best off the shoulder prom dresses — especially since it's a look that lends itself so well to formalwear. After all, there's something about that off the shoulders look that just kind of elevates things to the next level, somehow making things feel fancier all around.
It's kind of a win-win when you think about it, because in addition to being one of the absolute trendiest silhouettes of the moment, it's also got an unflaggingly romantic feel — which is, of course, ideal for prom. Add in a winkingly flirty vibe, and a dash of Old Hollywood retro charm, and you've got yourself quite the winning dress — plus, there are just so many ways to interpret the look, from simple-yet-striking mini dresses, to dazzlingly glamorous full-length gowns.
So, ready to begin the search? This list's a pretty good place to start, with a round-up of 15 next-level Bardot dresses — in all different styles, colors, and price points.
New Look Premium Floral Mesh Bardot Skater Dress, $68, Asos
As long as you're going for the whole romantic, off the shoulders look, why not add in some fairy princess vibes while you're at it?
Off the Shoulder Cape Dress, $130, Eloquii
Capes are also always a great option, especially where all things prom are concerned.
ASOS Fold Detail Bardot Scuba Prom Dress, $83, Asos
Romantic, flirty and retro yet modern.
Aqua Off-the-Shoulder Flounce Gown, $228, Bloomingdales
This one'll have you looking like you just walked straight out of a Taylor Swift music video.
Zara Off the Shoulder Dress, $20, Zara
This dress is a bold option, figure-hugging and fabulous.
ASOS CURVE Midi Skater Dress With Bardot Cross Front, $27, Asos
Old Hollywood appeal paired with current day comfort and affordability makes this option an all-around win.
Soieblue Off the Shoulder Dress, $55, Forever 21
Romantic and nymph-like.
Topshop Ruffle Bardot Mini Dress, $110, Topshop
The structured ruffles on the bodice are so, so fun, and the bright red shade makes it all even better.
Floating Bardot Jacquard Midi Prom Dress, $196, Asos
So pretty and unique.
Aqua Illusion Off-the-Shoulder Gown, $228, Bloomingdales
Now, here's a great gown for looking like you waltzed right off the latest celebrity-filled red carpet.
Off the Shoulder Wrap Waist Dress, $100, Eloquii
Though simple, the siren red and old world silhouette keep this dress stunning.
Off-The-Shoulder Tulle Skater Dress, $25, Charlotte Russe
Who doesn't love a little tulle now and then?
Floral Organza Off The Shoulder Bardot Midi Prom Dress, $55, Asos
This one's about as romantic and ultra-feminine as they come.
Premium Bonded Scuba Off The Shoulder Lace Insert Midi Dress, $98, Asos
The peekaboo lace inserts add some fun detailing to this cool, cool dress.
Dress with Bardot Neckline, $30, Zara
You can't argue with that color, and the bodycon silhouette is absolutely gorgeous.
Whether you're going for something sleek and sexy, or something full-blown romantic, there are tons of off the shoulder prom dress options to choose from.