These Are The Most Travel-Friendly Dresses You Can Get On Amazon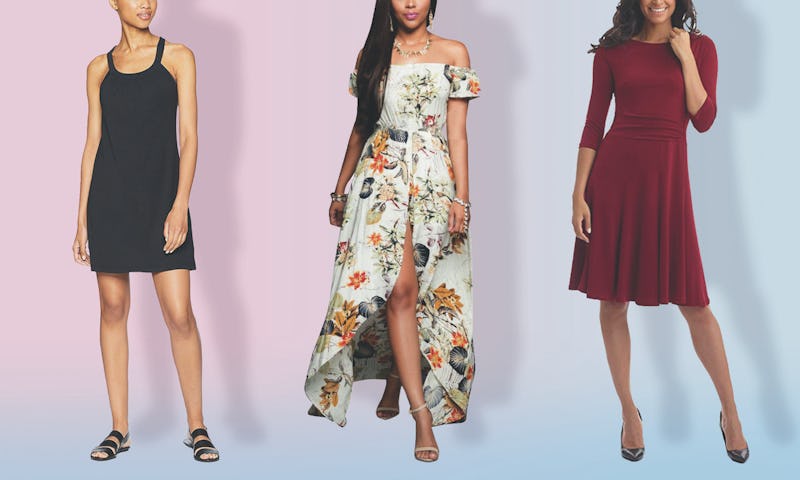 Amazon/Bustle
No matter where I'm going or what I'm doing, dresses are always my primary choice of clothing. I find them especially comfortable and easy to pair with most accessories — but the best travel dresses are a little bit more challenging. Whether you're wearing it on the plane or packing it away for the destination, there are some key features that make for a much more travel-friendly dress.
The first quality to look for is comfort. Especially when you're on the go, you want to make sure that your wardrobe is breathable, chafe-resistant, adjustable, and non-constrictive — especially if you'll be walking long distances or taking extensive plane, train, or car rides. The most comfortable dresses will be loose and soft, but tighter dresses can also work so long as they're made with elastic or spandex for a stretchier fit.
Next, consider the ease of maintenance. A dress that turns into a wrinkled heap if it's not laid out flat likely isn't the best choice for that destination wedding or business conference. Fabrics made from synthetic materials create the best wrinkle-free travel clothes. For that reason, polyester is a popular choice, but so is rayon, which is often soft, breathable, and resistant to creasing. The aforementioned materials are also quick-drying, which is great for both wicking away sweat and allowing the garment to air-dry should you choose to hand-wash and re-wear it.
Finally, think about the practicality and the versatility. Pockets are a popular feature on travel-friendly dresses. So is the ability to layer, which makes a piece suitable for varying weather. Last but not least, if a dress works well with all kinds of shoes, belts, bags, and jewelry, it's likely a great choice for your vacation; that way, you can pair your dress with other pieces so it's tailored to any event or activity.
These 15 travel dresses have all those features and more — plus they're available in a huge range of colors, patterns, and sizes.