The Most Powerful Quotes About Literature From The 2017 National Book Awards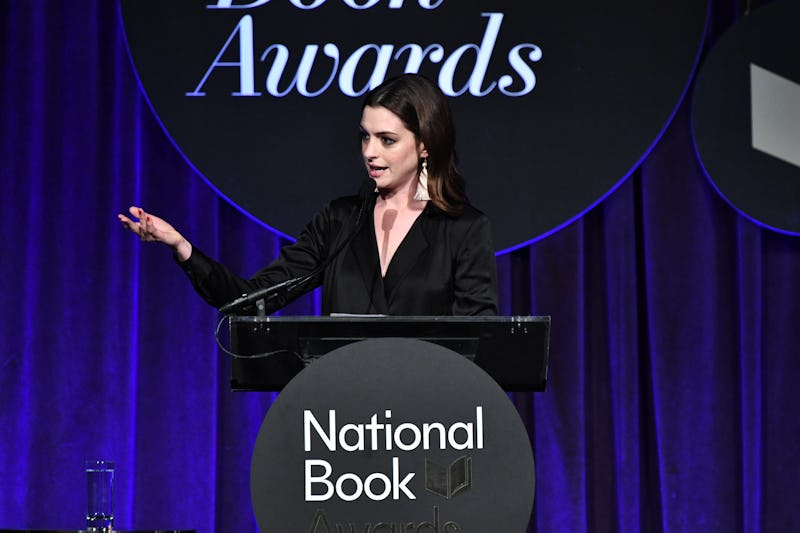 Dimitrios Kambouris/Getty Images Entertainment/Getty Images
Every year, the National Book Awards Ceremony brings together a star-studded cast of authors and readers to bestow the highest honors in U.S. publishing on a few lucky authors. Naturally, the 2017 National Book Awards Ceremony was full of great quotes about the power of books and how readers can change the world. I've collected some of the best quotes from the 2017 National Book Awards Ceremony for you to enjoy below, so keep reading and scrolling, book nerds.
On Wednesday evening, the authors of 20 nominated books — five each from the Fiction, Nonfiction, Poetry, and Young People's Literature categories — waited to learn whether they would take home the $10,000 monetary award and bronze statuette given to each winner. This year's winners were:
Additionally, Scholastic President and CEO Dick Robinson received the National Book Foundation's Literarian Award for Outstanding Service to the American Literary Community, and Barkskins author Annie Proulx became the newest recipient of the Medal for Distinguished Contribution to American Letters.
Each of the hosts, judges, and authors had something profound to say about the power of books. Many spoke to literature's particular role in the U.S. at at time when uncertainty and distrust cloud our social, economic, and political interactions. There was talk of how books can make us more empathetic, how they can educate and inspire our children, and how they can help us resist the dangerous and cruel narratives that have begun to take over public discourse.
At a time when people who are not white, not male, not cisgender, not heterosexual, not able-bodied, not Christian, and not American are publicly scorned by political officials at every level of government, stories matter. Black stories matter. Women's stories matter. Hispanic stories matter. Jewish stories matter. Muslim stories matter. Asian stories matter. Stories of disability matter. LGBTQIAP+ stories matter. Immigrant stories matter. In selecting their winners, from the 40-book longlist to the four titles that each won $10,000 Wednesday night, the National Book Foundation and its judges have shown that readers' eyes, ears, and wallets should be turned toward the margins.
Check out the 16 best quotes about the power of books from the 2017 National Book Awards Ceremony that I've picked out below, and be sure to share your favorites with me on Twitter!