The 2017 Golden Globes Opener Lyrics Are 100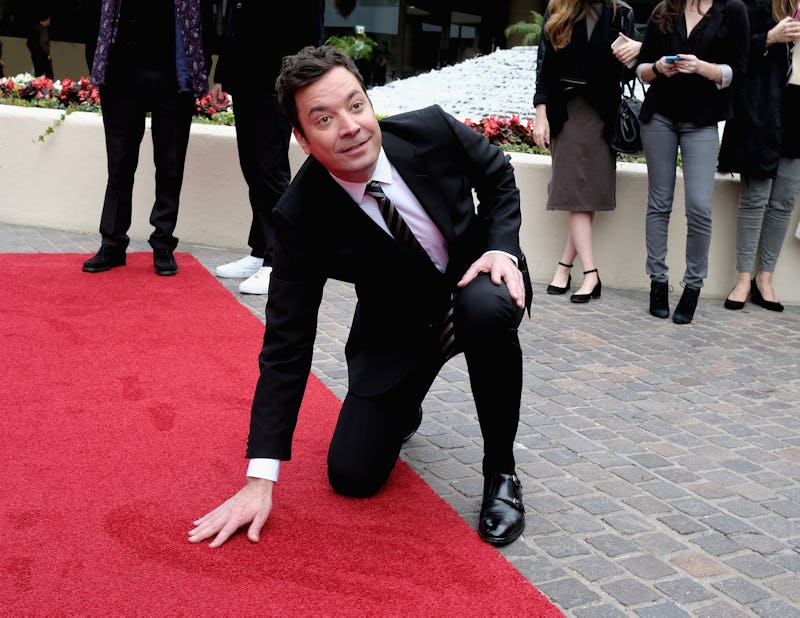 Alberto E. Rodriguez/Getty Images Entertainment/Getty Images
It's no surprise that the 2017 Golden Globes opener, with Jimmy Fallon at the helm, was a musical whirlwind full of movie references and celeb appearances. But who knew we would get a Stranger Things surprise out of it? The Globes are already too good to be true.
The opener had appearances from Nicole Kidman, Amy Adams, Evan Rachel Wood, Sarah Paulson, Rami Malek, Kit Harrington, the kids of Stranger Things, Tina Fey, Justin Timberlake, and more, all of whom chimed in by reciting lines, dressing as their characters (in Wood's case), rapping (in the kids' case), and dancing (in Timberlake's case).
It's definitely worth a rewatch, but in the meantime here are all the lyrics to the Golden Globes opener.
Jimmy Fallon: I'm hanging here out west.
The Golden Globes are starting but I'm stuck here in this mess.
All the nominees are inside waiting there for me, think of all the stars I'll see.
Here we go, tonight's the night
Nicole Kidman: Cameras up and lights are bright
Wigs are on and Spanks are tight
I can barely breathe
Amy Adams: Pretty soon the show begins
We're all waiting to get in
But everyone is stuck behind that white Ford Bronco
Sarah Paulson: Golden Globes will be given out tonight
Sterling K Brown: Not all the nominees are white
Evan Rachel Wood: Stuck on the 405
The show is almost live
Rami Malek: Just hacked your hard drive. If these photos ever get out, you're dead.
Kit Harrington: The Golden Globes have just begun
Milly Bobby Brown: My name is Eleven, I'm here 24/7
Im eating Eggo waffles by the pound
I got a knack for rapping about Stranger Things that happen inside the upside down
You're my best friends forever, Dustin, Lucas, & Mike
And together we know how to survive
And I got a little secret, don't repeat it, better mean it
Barb is still alive!
Jimmy Fallon: You have minty fresh breath
Ryan Reynolds: Yeah
Jimmy Fallon: Room full of stars, some from movies, some TV
Room full of stars, they've been getting drunk since 3
Who knows who the Hollywood Foreign Press will choose
This golden night, a night for me and you
Tina Fey: I've been waiting 20 years for th..
Justin Timberlake: It's almost time,
Jimmy Fallon: I'm a little nervous
Justin Timberlake: Don't be nervous! You're gonna be great. Just go out there and be yourself. "Oh my gosh my man I'm in HollywoodIt's the Golden Globes! It's so great, so great Everybody should win, you're a winner, you're a winner."
Jimmy Fallon: I get it I get it
Justin Timberlake: Well, you better get out there and host
Jimmy Fallon: But I don't even know where we are!
Cue Fallon entering the stage. Here's hoping we see more of Barb tonight.