'Bachelor' Franchise Faves Who Should Be The Bachelorette In 2018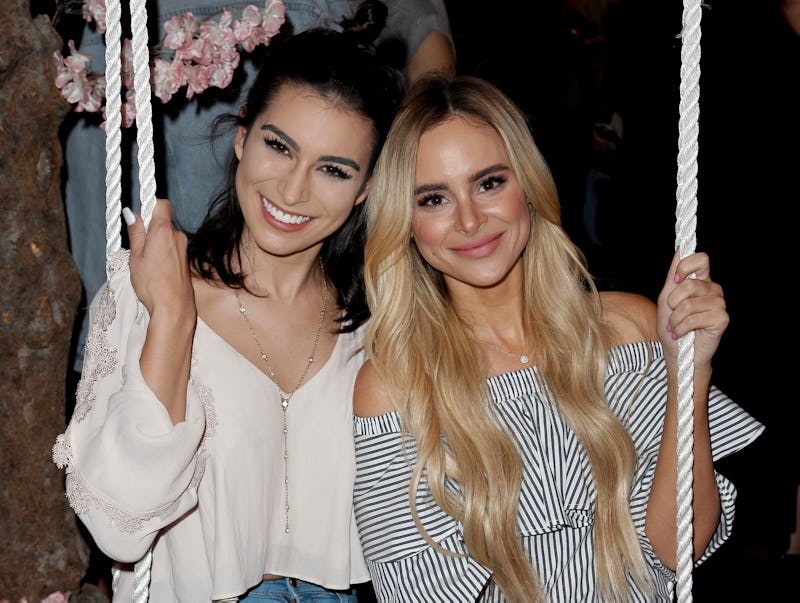 Tibrina Hobson/Getty Images Entertainment/Getty Images
Unfortunately, there is only one season of The Bachelorette every year. This means that there are some great women in Bachelor Nation who haven't been selected for the part, but still deserve a shot. Even though the lead traditionally comes from the previous Bachelor season, things can change and it's never too soon to think ahead. There are already plenty of women who would be a good fit for The Bachelorette in 2018.
So far, every single Bachelorette has been a woman who finished somewhere in the top four from the previous Bachelor season. This means that there's a solid chance that the next Bachelorette will be someone from Arie Luyendyk Jr.'s upcoming season of The Bachelor.
Still, that is not a guarantee. Sure, the selection of The Bachelorette lead has followed this pattern for all 13 seasons, but if the last two Bachelor seasons are any indication, fans should know to expect the unexpected. Nick Viall stared in The Bachelor Season 21 even though he wasn't on the previous Bachelorette season. Then again, he was on the two seasons before that and on Bachelor in Paradise Season 3, so he certainly put his time into this franchise before securing such a coveted spot. As for Arie, he became the newest Bachelor even though he hasn't been on a Bachelor show since 2012 when he was the runner-up on Season 8 of The Bachelorette vying for Emily Maynard's love.
At this point, the surprise lead selections have only happened for Bachelor seasons, but it's not out of the realm of possibility for The Bachelorette. These are some of the ladies who would be great Bachelorette stars next season.
1. Kristina Schulman
Kristina won over viewers on The Bachelor Season 21 when she shared her story about being an orphan in Russia before moving to the United States. The love from that season carried over into her stint on Bachelor in Paradise Season 4 when she fell hard for Dean Unglert, traveled with him during the BiP shutdown, and had expectations of serious relationship with him... before he started dating another woman. Hearts broke everywhere for Kristina until she stood up for herself and left the show. Kristina needs the opportunity to hand out the roses to men who see her worth.
2. Alexis Waters
This would be the most fun Bachelorette season of all time. Alexis has the best commentary during her on-camera interviews and she is not afraid to turn up on a date or wear a ridiculous costume. Alexis leading a group date would be TV gold. Not only that, but it would be great to see other sides of Alexis since she would get to be in the spotlight instead of being pushed to the ending credits like she has been in the past.
3. Jasmine Goode
Jasmine promised to "give good TV" on Bachelor in Paradise Season 4 and she definitely delivered. Unfortunately for Jasmine, she did not find love, but that just means that she should be considered to star in the next installment of The Bachelorette. She would be a hysterical Bachelorette with all of her one-liners.
4. Becca Tilley
It felt strange watching the last Bachelor season without Becca competing for a rose since she was on the two before that. Becca is still single and a fan favorite. Seeing her on social media just isn't enough. Let's get Becca and her perfectly undone hair back on reality TV. Her BFF JoJo Fletcher can even pop in and out to give her support throughout the journey.
5. Ashley Iaconetti
If Ashley was the Bachelorette, Chris Harrison would be correct in describing it as the "most dramatic season yet." Ashley has never been shy when it comes to sharing her emotions. There's bound to be a lot of tears, but Ashley has proven that she's comfortable dating on The Bachelor and two seasons of Bachelor in Paradise, so it would be even better if she got to call the shots on The Bachelorette. Plus, she's friends with pretty much everyone in Bachelor Nation, so she can bring the franchise alums on to consult.
6. Amanda Stanton
Amanda did not end up with anyone in the long run on The Bachelor or her two seasons of Bachelor in Paradise, but she really should have. The single mom is so lovable and sweet. She can even bring her daughters along for the journey like Emily Maynard did with her daughter. It would make for such an endearing season. Plus, she has the best outfits.
7. Someone From Winter Games
Although the specifics of The Bachelor Winter Games are still unclear, it will be airing at the same time a The Bachelor, which is before the Bachelorette is selected. So, if someone really pops on that show, the timing would work out and it would be someone who the viewers are familiar with.
8. Someone From Arie's Season
As great as the other suggestions are, the most realistic choice will be a woman from Arie's top four. That's just how it's always been. Now, the fandom needs to wait for that season to finish filming and for it to air before the next Bachelorette is announced. True fans will watch no matter who the leading lady is.