What To Watch If There's No Way You're Going Outside On The Fourth Of July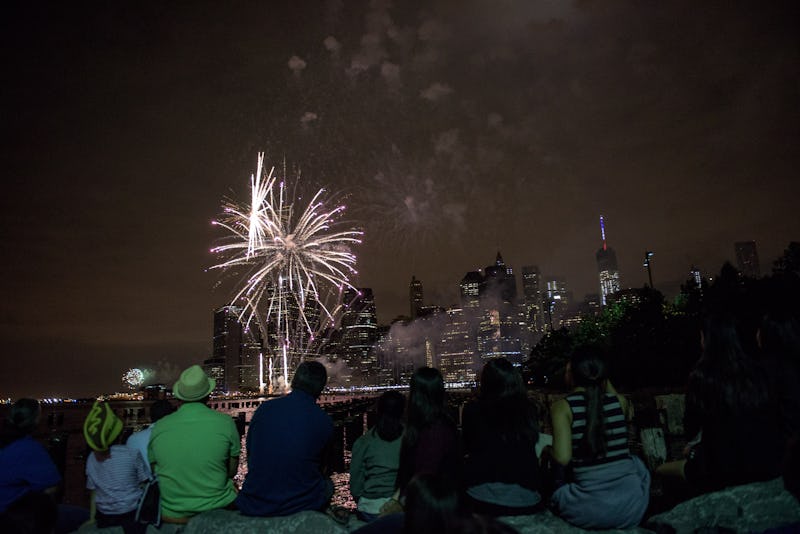 Andrew Renneisen/Getty Images News/Getty Images
The founding fathers may not have realized they would be establishing a tradition of barbecues and fireworks when they declared their independence, but there's no separating these cultural touchstones from what Fourth of July celebrations have become in America. But no American holiday is complete without some explosive TV specials to enjoy when you need a quick break from the day's festivities. The 2018 Fourth of July TV schedule is packed with content perfect for either enjoying on your own or throwing on in the background at any group celebration.
For those who don't want to go channel flipping all day, plenty of networks are programming Fourth of July marathons, such as FX with its thematically appropriate Captain America slate starting at 3:30 p.m. ET, and the USA Network, which is dedicating the day to running 16 hours of episodes of NCIS, starting at 6:00 a.m. ET.
However, with the advent of streaming, there are plenty of movies and television shows that audiences can catch any day of the year. The real gems of Fourth of July television, however, are the events that people wait all year for the chance to see televised. Here are just a few of the holiday-appropriate programming options that you can find on your cable provider this Wednesday.
The Nathan's Famous International Hot Dog Eating Contest — ESPN2/3
While not as obvious of a tradition as fireworks, it simply wouldn't be July 4th in America without Nathan's Famous International Hot Dog Eating Contest. According to the chain, the contest will be celebrating its 102nd year. That's right. This eating challenged dates all the way back to 1916. At 10:50 a.m. ET on ESPN3, the women's competitive hot dog eating competition begins, featuring returning champ Miki Sudo. Then, at noon ET, the action moves over to ESPN2 for the men's competition. If you're looking for an eventful lunch, you can even try to play along at home — if you dare. Stay tuned into ESPN2 after for the American Cornhole Pro Invitational, if you so desire.
Macy's 4th Of July Fireworks Spectacular — NBC
While most afternoon programming during the Fourth of July is dedicated to marathons, the evening is chock-full of great options to enjoy some of the country's most extravagant Fourth of July celebrations from a comfortable distance. One such event is the Macy's 4th Of July Fireworks Spectacular, which airs at 8 p.m. ET on NBC. The musical line-up features American Idol legend Kelly Clarkson, performer extraordinaire Ricky Martin, country music icon Keith Urban, and The Voice coach Blake Shelton.
A Capital Fourth — PBS
At 8:00 p.m. ET, The Public Broadcasting Service will be airing its 38th annual broadcast of A Capital Fourth. John Stamos will host a variety of performers including The Beach Boys, The Temptations, and Jimmy Buffet. While there are plenty of acts that older generations will enjoy, the show will also feature performances from newer acts like Pentatonix and Andy Grammar, making the Capital Fourth a celebration that everyone can enjoy. And, of course, the event will end in a fireworks display at the U.S. Capitol.
Jaws — AMC
While there are plenty of obviously patriotic movies that one can watch to celebrate Independence Day — The Patriot, 1776, or even Independence Day would fit perfectly — there's one movie above all else that serves as the perfect Fourth of July film. Jaws shows the lengths that people will go to in order to prevent a pesky shark from ruining a Fourth celebration. AMC will be airing Jaws through Jaws 3 on loop starting at 11:30 a.m. Jaws 3 and Jaws 3 aren't quite as memorable as the original, likely because neither of them have anything to do with the Fourth of July. But they're worth sitting through if you know that Jaws is going to come back around eventually.
With so much television, there's bound to be something for everyone. But it may be worthwhile to take a chance on the programming that is only aired — or is most appropriate to enjoy — on the Fourth of July. Celebrating doesn't have to mean throwing a party or going to see fireworks, sometimes watching strangers escape the grasp of a deadly sea creature is celebration enough.