The 2018 Grammys Whispered "Time's Up" When We Needed To Shout It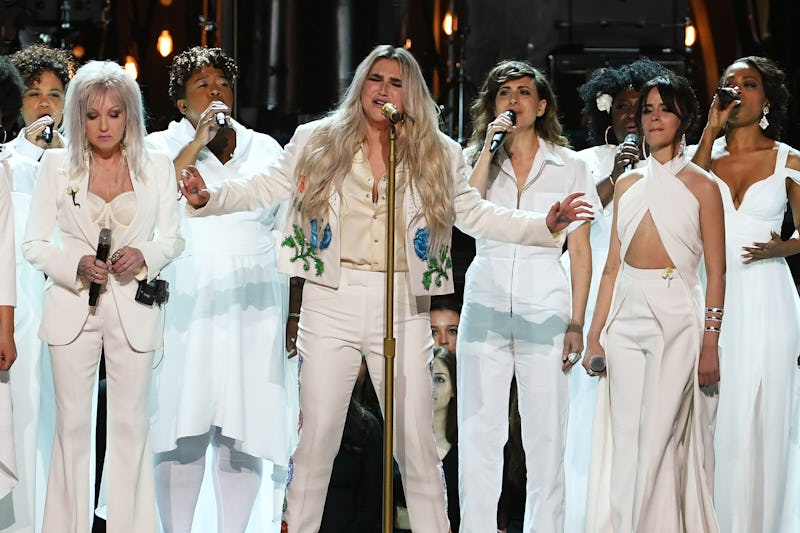 Kevin Winter/Getty Images Entertainment/Getty Images
This is a crucial moment for the Time's Up movement. The campaign, which was announced on New Year's Day and backed by a collective of over 300 women in Hollywood, made its red carpet debut at the 2018 Golden Globe awards one week later. Attendees wore black and Time's Up pins to show their support of its multi-faceted mission to end gender-based discrimination and abuse in all industries. For as much coverage as the movement has received, it should be in a period of growth, affecting conversations all over the entertainment business. But the Time's Up presence at the 2018 Grammys previewed what could be a drift into stagnancy for a necessary crusade.
Time's Up only has value if those who support it are willing to talk specifically about what it means. During the Grammys red carpet on Jan. 28, hosts Giuliana Rancic and Ryan Seacrest dutifully asked attendees why they carried or wore white roses — the Time's Up signifier of choice for this awards ceremony. But while similar questions brought up conversations about equal pay and sexual harassment at the Golden Globes, some of the responses at the Grammys were much more general and non-committal.
While songwriter-turned-solo-artist Bebe Rexha mentioned some gender imbalanced radio play stats and Nick Jonas called for men to sit back and "listen," other celebrities seemed to stay in shallower waters. And many even avoided bringing up women at all. E!'s interviewers did the same, asking about "the movement" or "the white rose" instead of directly asking how women in the industry need to be supported. When Seacrest asked Rita Ora how she would directly advance Time's Up, she said, "Just showing solidarity and unity makes everything more powerful."
Sam Smith had a vague answer as well. "I hope we get better," the singer said. "And I just hope we keep striving forward towards equality for absolutely everyone, in every situation. Across the board. Being a gay man, we need that as a community, and the world needs it now."
Kelly Clarkson told Seacrest she looked up the meaning of white roses and learned that they signify "hope and peace and sympathy and resistance." The singer added, "I thought those were very lovely things for every human to encompass." Again here, the significance of the Time's Up symbol is being broadened to encompass all people. The target becomes wider than the mission of understanding how abuses of power impact women's careers and well-being.
This isn't to say that these artists don't understand what Time's Up is, but their comments aired on the side of diplomacy. And of course, people in the industry should be doing what they can to foster a respectful working environment for all artists. But Time's Up was galvanized by very specific circumstances. "The struggle for women to break in, to rise up the ranks and to simply be heard and acknowledged in male-dominated workplaces must end; time's up on this impenetrable monopoly," the movement's initial open letter reads. And unless public figures in music are willing to speak publicly about the specific ways in which women are systemically affected in this field, then those two words have already lost some of their impact. If high-profile events follow the Grammys lead in watering down the purpose of the movement to make it a too-general expression of bland niceness, it will lose that beautiful, inspiring momentum that it had at the beginning of this year.
The Time's Up presence at the Grammys was muted. Lady Gaga said the words during her performance, but without further explanation. Other performers, such as Elton John, had their white roses with them on stage for their performances — but not a single one actually talked about the white rose or why it was there. Bruno Mars, who gave three acceptance speeches on stage that night, did not even allude to the movement in any of them. The sole, direct expression of the systemic issues that led to the creation of Time's Up came from the actor and artist Janelle Monáe, who introduced nominee Kesha. Her speech was the only moment in the ceremony where those Time's Up issues were referred to by name. Here's an excerpt of her speech:
"We are also daughters, wives, mothers, sisters, and human beings. We come in peace, but we mean business. And to those who would dare try and silence us, we offer you two words: 'Time's Up.' We says 'Time's Up' for pay inequality. 'Time's Up' for discrimination. 'Time's Up' for harassment of any kind. And 'Time's Up' for the abuse of power. Because you see, it's not just going on in Hollywood, it's not just going on in Washington, it's right here in our industry as well. And just as we have the power to shape culture, we also have the power to undo the culture that does not serve us well."
Kesha's performance of her anthemic single "Praying" with guests Camila Cabello, Cyndi Lauper, Andra Day, Rexha, and the Resistance Revival Chorus was definitely one of the most highly anticipated performances of the evening, due in part to the song's subject matter. Kesha was locked in a legal battle with Sony and producer Dr. Luke. She sued to be released from her contracts with Dr. Luke, alleging that she'd been abused emotionally, physically, sexually, and mentally by her collaborator. Dr. Luke countersued, claiming that her accusations were "false and shocking." All of the back and forth resulted in Kesha not being able to release music for several years before the matter was worked out, since she refused to work with Dr. Luke again and her record label would not release her.
Some viewers noted the hypocrisy present in the response to the Kesha performance of a song about surviving her own abuse, seeing as how there were likely people in the audience who were on the opposite side of her battle. As brave and affecting as her performance was, Kesha's Grammy performance is an unpleasant reminder that it will take a lot more than roses and pins to "undo the culture," as Monáe said.
There's still so much for Time's Up to do, and the movement is still capable of great things. But those in the spotlight who claim to support it must get comfortable talking about uncomfortable topics, remember why it exists in the first place, and do more than speak about "having the conversation." Actually have it.
If you or someone you know has been sexually assaulted, call the National Sexual Assault Telephone Hotline at 800-656-HOPE (4673) or visit online.rainn.org.