This Year's Super Bowl Was Nostalgic AF & You May Have A Better Week Because Of It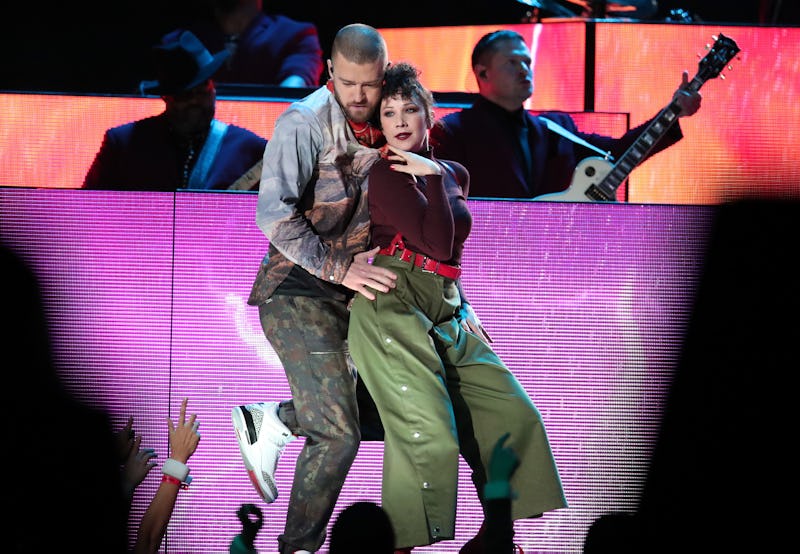 Christopher Polk/Getty Images Sport/Getty Images
For a few brief hours on a Sunday in February, it didn't feel like 2018. And what a relief it was. The 2018 Super Bowl had throwback vibes all over the place, from the commercials to the halftime show to deja vu of the New England Patriots coming from behind to nearly eke out a victory. It seems that everyone involved in this putting this football and consumerism extravaganza together individually decided to give everyone watching the sense that they'd traveled back in time.
First, there were the commercials. For Doritos, Peter Dinklage of Game Of Thrones fame and Morgan Freeman lip-synced barnburner verses from a 2011 Chris Brown track featuring Busta Rhymes and Missy Elliot's 2001 hit, "Get Your Freak On," respectively. John Krasinski is brought the prolific Tom Clancy character Jack Ryan — who made his pop culture debut in 1984 — back to audiences with the trailer for his new Amazon series of the same name. Jeff Goldblum prepped for his return to the Jurassic Park cinematic universe with a Dr. Ian Malcolm-themed ad for Jeep. Eli Manning and Odell Beckham Jr. nailed the choreography from the iconic final scene of 1987's Dirty Dancing for the NFL. (Would that every touchdown dance were inspired by Patrick Swayze.) Squarespace had '80s teen heartthrob and present-day action star Keanu Reeves poke fun at the "Sad Keanu" meme that he inspired. It seemed that every other ad was looking backward to times that we maybe remember a little more fondly now.
Very few commercials that aired during the Super Bowl had an explicit political bent, which is perhaps surprising to some. But it may be that advertisers decided that instead of reminding viewers of political divides and disturbing headlines, it'd be better for their bottom line to distract them from all that with happy memories. Because while it's admirable to use precious, expensive ad time to address pressing social issues, consumers don't take kindly to the perception that those social issues are being exploited to sell something. (The backlash to Dodge using a recording of Martin Luther King, Jr. in its 2018 spot was swift and brutal.) There's something soothing about callbacks, like Pepsi's recreation of Cindy Crawford's iconic 1992 ad. And callbacks are safer territory for advertisers who don't want to be accused of commodifying "wokeness."
Halftime performer Justin Timberlake seemed to be in on the theme as well. He kicked his set off with 2018 single "Filthy," but that was the only song he performed from his new album. The rest of the show functioned as a career retrospective that also probably brought up some feelings and memories for fans watching at home. "Senorita," "Sexyback," "Rock Your Body," and "Cry Me A River" (by the way, also an essential vehicle for nostalgia in the soundtrack to Best Picture nominee Lady Bird) were all there to remind you of house parties, road trips, and Justin Timberlake albums getting showered with good reviews. (Sorry, Man Of The Woods.) Timberlake's halftime show earned mixed feedback for sure, but some were relieved that he went the safer, more nostalgic route rather than attempt to address an issue and fail.
If you felt even a little bit more cheerful after this game and can't attribute it only to the Eagles winning, science can actually explain what's going on. In 2013, The New York Times reported that nostalgia can have all kinds of positive effects on people, including decreasing anxiety and increasing generous feelings towards others. The University of Southampton's Dr. Constantine Sedikides studies the phenomenon and told the Times that "nostalgia makes us a bit more human," and said that he's found it to be a "universal" feeling that affects people everywhere, including young children. He and his colleagues often used music to bring up nostalgic feelings in their study subjects.
The 2018 Super Bowl may stand out because it actually seems like it was beamed here straight from the past. As the list of rebooted TV shows keeps getting longer and rumors of the Spice Girls reunion tour sends Twitter into a tailspin, it's fair to say that this nostalgia trend isn't going anywhere. It's even permeating the most-watched sporting event of the entire year.