Let's Be Very, Very Glad That Justin Timberlake's Super Bowl Show Was So Boring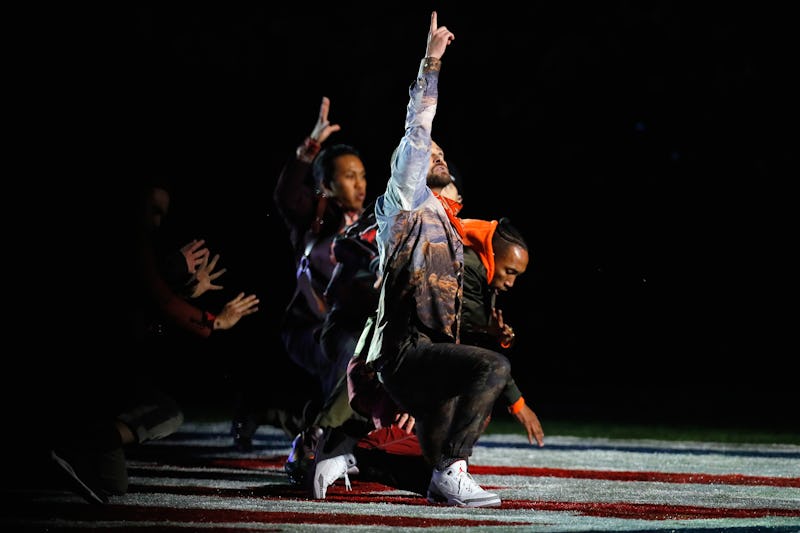 Kevin C. Cox/Getty Images Sport/Getty Images
Politics and Justin Timberlake have gone hand-in-hand controversially over the past decade — what with the frequent criticisms of faux allyship to sell records — but you would never know that from his 2018 Super Bowl performance. Despite what you may have anticipated considering Timberlake's "Supplies" music video from Man of the Woods featured "#MeToo" and "End Racism Now" protest signs, the pop singer kept it incredibly apolitical when he hit the Halftime Show stage. He performed a medley of his greatest hits — "Filthy," which opened the medley, was his only notable performance from the Man of the Woods era — and the only controversial moments were when he used a projection of Prince at one point, and performed "Rock Your Body" at another point (you know, the song he was performing with Janet Jackson when he exposed her nipple to millions of viewers in 2004). But, honestly, though it made for a boring show, it feels like a good thing that Timberlake didn't attempt to clumsily insert politics into his Super Bowl performance. And that's because he never quite pulls it off.
His most recent attempt was the aforementioned "Supplies" music video. Although it was a song that had nothing to do with politics, the music video that paired with it visually name-checked several issues that are affecting the nation today. And fans did not want. They did not want at all. "Things that appear in Justin Timberlake's 'Supplies' video: The Illuminati, 'Freddie Gray', Orphans yelling 'WAKE UP', 'The Future is Female' and 'P*ssy Grabs Back' screen tees, Boobs. Things that do not appear in Justin Timberlake's 'Supplies' video: THE WOODS," tweeted one. "Now imagine that instead of watching footage of activism, Justin Timberlake was watching footage of himself in that Woody Allen film," tweeted another.
The latter is particularly relevant in Hollywood right now. Despite his attempts to wade into politics, Timberlake's role in the upcoming Woody Allen movie Wonder Wheel has brought him under fire again and again — especially by Dylan Farrow. Though he supported the Times Up initiative and wore the movement's pin to the Golden Globes, Timberlake has neither explained nor apologized for working with Allen, who Farrow has accused for years of sexually abusing her when she was a child. (Allen has vehemently denied the allegations for years, as well.)
"I chose to not get into it," he said to The Hollywood Reporter in 2017, about the ethics of starring in an Allen movie. "I really don't dive into any of that stuff with anybody." Considering Times Up is meant to "subsidize legal support to those who have experienced sexual harassment, assault, or abuse in the workplace," according to the website, Timberlake's support of it is hollow to many. And between his decision to work with Allen and his "Supplies" music video, many fans have called the singer on being "fake woke" or being a "faux ally" — someone who wants to pay lip service to causes like Time's Up, feminism, and more without actually doing the work, examining his own privilege, or fully understanding the causes.
So when Timberlake got on the stage and proceeded to distract us with flashy and fancy dance moves but not actually send any kind of message, I actually breathed a sigh of relief. As Lindsay Zoladz of The Ringer wrote on Feb. 2, "The world needs a political statement from Justin Timberlake about as much as it needs a tearful political monologue from Jimmy Fallon—which is to say that we don't need those things at all." Sure, there was a high bar set when Beyoncé hit the 2016 Super Bowl stage with a Black Panther homage and Black Lives Matter tribute, but that bar has since been lowered. Lady Gaga's 2017 halftime performance forced you to squint and interpret if you wanted to see any political statements in it. And the last time Timberlake was on the Super Bowl stage, he was causing a national outrage by exposing Janet Jackson's right breast during the "Gonna have you naked by the end of this song" line in "Rock Your Body." Now really wasn't the time for him to make more waves.
And, honestly, we shouldn't have expected him to. Whether he's accidentally co-opting the name of women's rights foundation Take Back The Night in 2013 or holding a listening party at Prince's Paisley Park in 2018 even though the two had a kind-of-feud while Prince was still alive, when Timberlake wades into politics it's always an exercise in patience for even his biggest fan to watch. For him to provide us with a safe Super Bowl Halftime Show may have been boring, but at least JT wasn't trying to shoehorn in a message. And that's a good thing, because if "Supplies" has taught us anything, it's that Timberlake doesn't seem to be clear on what it is he's trying to say.