The Powerful Reason The Women's March Isn't Actually A March This Year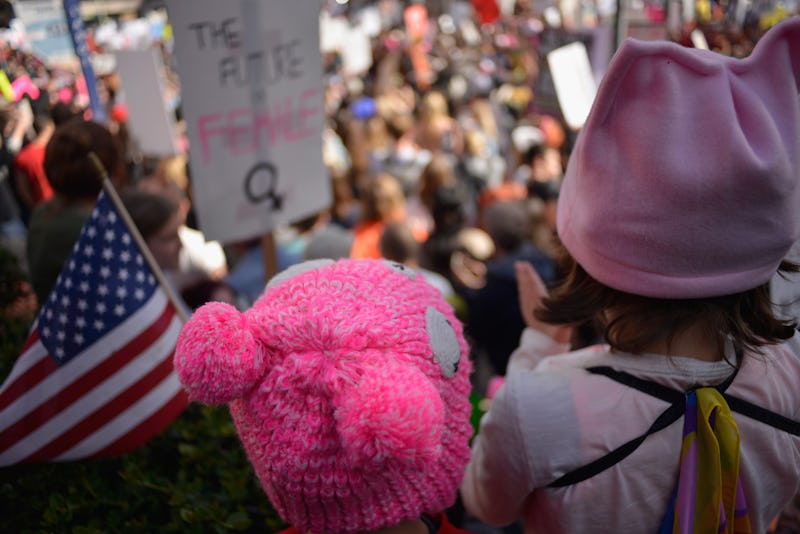 Chelsea Guglielmino/Getty Images Entertainment/Getty Images
How do you celebrate the anniversary of the largest single-day march in U.S. history? At first glance, the answer is simple: you hit the streets and march again. But for Women's March leaders, now is the time to do more than just show strength in numbers. Instead of marching, organizers will mark the one-year anniversary of the Women's March on Washington by kicking off a national voter registration tour on Sunday, in an effort to harness the momentum last year's march created and use it to elect more women and progressives in 2018.
To say the Women's March on Washington overshadowed President Donald Trump's inauguration would be an understatement. Driven largely by a desire to voice their support for women's rights and the rights of other marginalized groups potentially threatened by a Trump presidency, more than 2 million people are believed to have gathered on Jan. 21, 2017 for Women's Marches in cities across the globe.
"In January of 2017, they did D.C. and it was wonderful. It was brilliant," Deborah Harris, a state coordinator for Women's March Las Vegas, tells Bustle. "[But] it was really reactionary to the election. It was all about just doing something to feel like your voice was heard and that it mattered."
In the year that followed the march, Women's March organizers have been working to turn a moment into a movement. And after the first year of Donald Trump's presidency, both the country and the Women's March movement are, understandably, in a different place.
"After a whole year of what has happened in the United States with elections, with more light being brought to the #MeToo movement, with more women actually running for office... you really see women especially take that energy [of the first march] and be really strategic about placing themselves in positions to make sustainable change," Harris says.
The Women's March is aiming to bring the full force of their movement to the polls in 2018. To kick off this next stage, the organization will host a mass mobilization and voter registration event known as Power to the Polls from 10 a.m. to 4 p.m. PST on Sunday at Sam Boyd Stadium in Las Vegas, Nevada.
"It was very emotional a year ago," Women's March Las Vegas organizer Helen Foley tells Bustle. "Now, putting women into public office and having greater numbers of women is the way we can positively make change." According to Foley, Women's March hopes to help a million women register to vote over the course of the year.
But don't expect them to stop there: Women's March organizers plan to continue to harness the momentum of their movement to build on other advocacy efforts. Along with focusing on voter registration, organizers are looking to channel the energy of their movement into local electoral organizing. "Women's March is always about building up and building out," Harris tells Bustle. "We should always be going forward in this movement. We're in a position now where our feet are firmly planted. It's no longer reactionary. We are strategic."
While the Power to the Polls event will have supporters mobilizing on the one-year anniversary of the Women's March on Washington, a number of the organization's local chapters have organized various actual marches and other legislative actions to commemorate the occasion. If you can't make it to Sin City for Power to the Polls, you find an event taking place near you via the Women's March Anniversary Events page. There are a number of other ways to show your support as well.
"Women's March is always about building up and building out"
Women's March organizers are working to ensure the Power to the Polls event isn't an end unto itself, but rather the beginning of more robust organizing efforts. The event will kick off a mobilization and voter registration tour geared toward better engaging impacted communities, uplifting the voices of marginalized communities, and registering new or disenfranchised voters in swing states like Nevada. It's a bid to channel the energy of the entire Women's March movement directly into electoral power.
By bringing the movement to the voting booth, the organizers hope to create change that will sustain the Women's March momentum for months to come. "The women who appeared organically at that very first march... they are not content to have one rally, one march, and go home and be silent," Foley says. "Women will never be silent again. We are active now and this is the next forum, this is the next opportunity for women to come together and say, 'We've had enough and it's time. It's our time.'"