This Season's 'Amazing Race' Teams Include So Many Familiar Reality Stars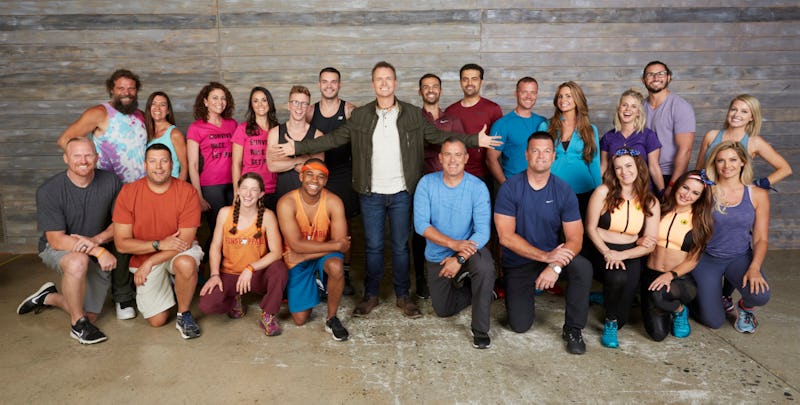 Monty Brinton/CBS
CBS dipped deep into its own roster for the 2019 Amazing Race cast. There are 11 teams of two this season, with four teams from The Amazing Race, three teams from Survivor, three teams from Big Brother, and one team with experience on both Big Brother and The Amazing Race. Considering that the contestants have all competed on challenge shows before, it should be a tight race.
"When you've got a cast as competitive as the one we have this season, it's going to get cutthroat," host Phil Keoghan said in video posted to The Amazing Race Facebook page. "Only one team is going to cross that finish line and win a million dollars. There isn't a team that is on this season that doesn't have the potential to win this season of The Amazing Race."
But while each of the contestants are experienced TV competitors, Keoghan noted that the reality shows they come from all involve very different strategies. "Big Brother is taking place in a tiny little house with walls and you can't get out," he said. It's similar to Survivor in that you have to form alliances and vote players out, though Survivor, is, of course, on an island, and requires competitors to live off the land. And though The Amazing Race does employ some strategy with regards to forming alliances or doling out punishments to strong players, it's mostly about how well you work with your partner to get things done quickly. "On Amazing Race people are not confined to a house or an island, the race course takes place around the world," Keoghan said.
Here are the teams that will race around the world this year.
Rachel Reilly & Elissa Slater
This Big Brother/Amazing Race duo are sisters and they know how to play to win. Rachel actually won Big Brother 13, and she's competed in two total seasons of Big Brother and two seasons of The Amazing Race. Elissa only has one season of Big Brother under her belt, so hopefully she can keep up with her sister during the race.
Nicole Franzel & Victor Arroyo
This Big Brother duo went from competitors to fiancées after finding love outside OF the Big Brother house. Both are extremely competitive, and Nicole won one season of Big Brother, so they're ready for this race.
Janelle Pierzina & Britney Haynes
These Big Brother stars have four seasons between the two of them, including an All-Stars one. But they still have their work cut out for them, according to Britney. "Big Brother prepares you for social aspects of the Race, but I don't think those skills are nearly as important for racing as they were in Big Brother," she lamented in her bio.
Chris Hammons & Bret LaBelle
This duo comes from Survivor, and they both think that experience will be helpful on Amazing Race. "You learn to be extremely adaptable on Survivor and I feel those skills are very necessary to overcome the challenges on The Amazing Race," Chris said in the pair's team bio. Bret added, "Survivor taught me how to work with people and make alliances which will hopefully help us in the race to strategize with other teams, so as not to get U-turned!"
Corinne Kaplan & Eliza Orlins
Another Survivor team, Corinne and Eliza are friends who are ready to win. Eliza said in their team bio that Survivor prepared her for Amazing Race because she's now "comfortable sleeping anywhere — an airport floor is luxurious compared to the shelter on Survivor." Corinne added that she "learned how to endure under unfathomable conditions." We'll see if those skills come in handy during the race.
Rupert & Laura Boneham
Rupert has four seasons of Survivor under his belt and Laura has one. That's a lot of reality TV challenge experience between the two of them. They're ones to watch.
​Art Velez & JJ Carrell
These best friends already competed in The Amazing Race once back in 2012. They came in second that time, and they're looking to win this time.
Colin Guinn & Christie Woods
Way back in 2004, Colin and Christie competed on the fifth season of The Amazing Race. That time, they came in second, and this is their chance at redemption 15 years later.
Becca Droz & Floyd Pierce
Becca and Floyd made up Team Fun on The Amazing Race two seasons ago, and they're back for a second chance after coming in fifth. Becca said in their team bio that she's hoping "that [Floyd and I] bring out the best in each other as we share a plethora of new experiences. I hope to gain a better understanding of our team dynamic, learn from each other, learn more about myself and obviously, have fun."
​Leo Temory & Jamal Zadran
This team of cousins has already participated in one season of The Amazing Race plus an All-Stars season, so they know what they're doing. "Nothing prepares you for the Race unless you have run it before," Leo said in their bio about why Amazing Race stars have an advantage this season.
Tyler Oakley & Korey Kuhl
You may know Tyler from his YouTube videos, but he and Korey are also Amazing Race stars. The duo competed on Season 28 together, where they came in third. Now they're ready to trade bronze for gold in Season 31.
The race begins Wednesday, April 17 on CBS. As for which legacy TV show the eventual winner will come from? Viewers will just have to stay tuned.