A Record Number Of Women Were Just Awarded This Prestigious Scholarship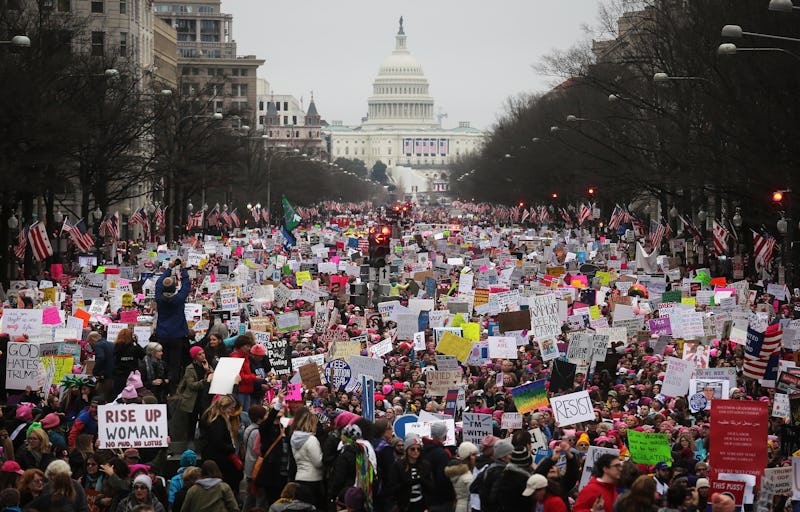 Mario Tama/Getty Images News/Getty Images
Each year, a few dozen American students are awarded the prestigious Rhodes Scholarship, enabling them to do a post-graduate study at the University of Oxford. But there's something special about the 2019 class of awardees —these Rhodes Scholars include a record number of female recipients.
Thirty-two American Rhodes Scholars were announced by the Rhodes Trust on Sunday, with 21 of them being women. According to the Rhodes Trust, this year's list of recipients includes the largest number of women ever seen in a Rhodes class. But this Rhodes class is diverse in another way as well. Nearly half of the recipients are either immigrants or first-generation Americans.
"This year's American Rhodes Scholars ... once again reflect the extraordinary diversity that characterizes the United States," American Secretary of the Rhodes Trust, Elliot F. Gerson, said in a press release announcing the winners. "Almost half of the winners are immigrants themselves or first generation Americans. ... The class overall is majority minority, as it was last year, and the 21 women are the greatest number ever elected in an American Rhodes class."
This year was also the first year that so-called DREAMers, or undocumented immigrants brought into the country as children and protected from deportation thanks to an Obama-era program known as Deferred Action for Childhood Arrivals (DACA), were eligible for the prestigious scholarship. According Gerson, one of this year's American Rhodes Scholars is a DACA recipient.
"These Scholars plan to study a wide range of fields across the social sciences, biological and medical sciences, physical sciences and mathematics, and the humanities," Gerson said. "They are certain to enrich our future."
The women in the 2019 class of American Rhodes Scholars include Sarah Tress, a senior Mechanical Engineering major at the Massachusetts Institute of Technology (MIT) who created the Loop cushion, a low-cost inflatable cushion designed to help wheelchair users prevent potentially deadly pressure sores.
Alaleh Azhir, a senior Biomedical Engineering, Computer Science, and Applied Mathematics and Statistics major at Johns Hopkins University, immigrated to the United States from Iran when she was 14 and has since published work on genomics and biomedical subjects in various journals.
Hadeel Abdallah, a political science and Arabic and Islamic studies major at the University of Kentucky, founded the Bilal Scholarship Endowment to assist underrepresented students in Kentucky. She also advocates for immigrant and refugee women's educational opportunities.
Laila Ujayli, an Ohio State University graduate, grew up largely in Syria and Saudi Arabia and now works as a Herbert Scoville Jr. Peace Fellow at Win Without War in Washington D.C. Serene K. Singh, a political science and journalism major at the University of Colorado Boulder, works alongside Michelle Obama as an intern at the Obama Foundation.
Other female recipients include Princeton University senior Nicolette C. D'Angelo, U.S. Naval Academy senior Margaret H. Dods, Harvard senior Brittany N. Ellis, University of Pennsylvania senior Anea B. Moore, University of Pittsburgh graduate Lia Petrose, Princeton senior Katharine H. Reed, University of Mississippi senior Mikaela Jazlyn Brisack, Stanford senior Kristina M. Correa, Indiana University graduate Jennifer Huang, University of Miami graduate Kristiana L. Yao, Brown University graduate Rhea C. Stark, Duke senior Claire R. Wang, Boise State University graduate Rachel Elena Gallina, Lewis and Clark College graduate Katherine M. Kowal, University of Arizona graduate Leah Crowder, Air Force Academy senior Madison L. Tung,
Since its founding in 1902, the Rhodes Scholarship has been awarded to 3,484 Americans spread across 323 universities and colleges. But women haven't always been eligible for the award. In fact, it wasn't until 1976 that they could even apply. Since then, 567 women have won the scholarship.