If You Have Bunions, You Need One Of These Foot Massagers In Your Life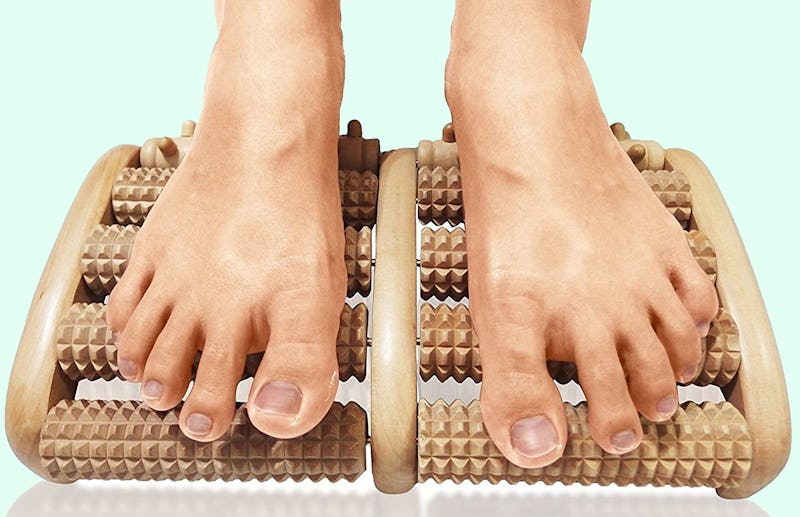 Amazon/Bustle
When you have bunions, a good massage can provide much-needed relief. The best foot massagers for bunions ease discomfort by reducing the tension and tightness throughout the entire foot.
Though massage isn't a cure for bunions — in an interview with EveryDay health, Dr. Khurram Khan, DPM said that, because they're "a biomechanical deformity," massage and other foot exercises won't "get rid of [bunions]" — the added muscle stimulation and increased flexibility can hep.
There are lots of different types of massagers on the market, from handheld and spa-quality varieties to manual options that require zero electricity to function. No matter which one you choose, the primary thing to consider is the device's therapeutic features. You want massager that'll stimulate the muscles and hit key pressure points (near the toes and along the arches) without further aggravating your bunions.
Massager Features That Are Great For Bunions
A rolling ball or a rotating effect to mimic a kneading massage
Vibration and/or air pressure to aid muscle stimulation
Heat for added pain relief
Textured edges for manual stimulation
Below, find a list of Amazon-available foot massagers for bunions that have some (or even all) of these features. Use them daily to reap their benefits, and check out the best shoes for bunions to ensure your footwear isn't creating more irritation.