Meet The New Guard Of Moisturizers — & They All Contain One Key Ingredient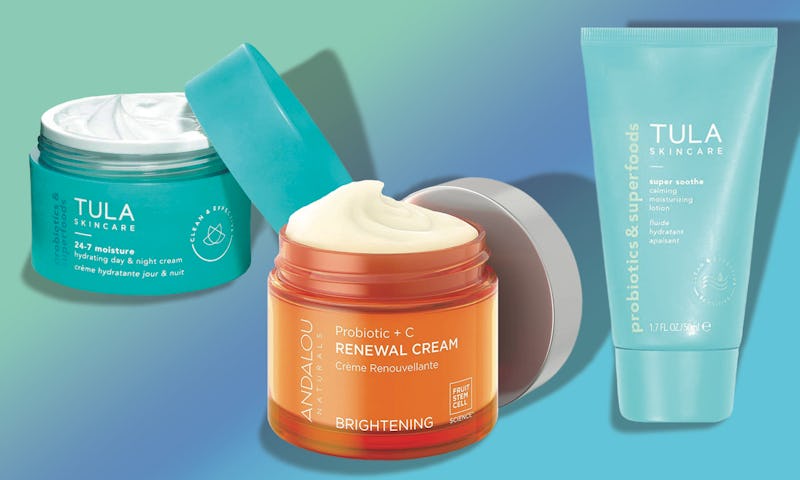 Bustle/Amazon
Whether you think the concept is cool or gross, bacteria in skin care products are really beneficial for your skin, for the same reason that the bacteria in fermented foods (like kombucha and kimchi) are really beneficial for your gut. In both scenarios, probiotics swoop in to balance, diversify, and propagate the good bacteria already present in your body while warding off the bad. Not for nothing, applying probiotics topically can make your skin look glowier, bouncier, clearer, and — in the case of the best probiotic moisturizers in particular — feel deeply hydrated.
Probiotics in the best skin care products with probiotics are microorganisms that mimic the functions of naturally occurring good bacteria already in your skin microbiome. Put simply, a balanced microbiome bolsters your skin against pathogenic bacteria (both endogenous and environmental) that can lead to conditions like eczema, psoriasis, rosacea, inflammation, and acne. A strong skin barrier is better able to retain moisture, too. So probiotics in moisturizers are just supercharging the product's other hydrating ingredients, in addition to probiotics' myriad other jobs that we all appreciate so much.
The four best probiotic moisturizers here suit a range of budgets and skin types — including acne-prone skin and sensitive skin, both of which can especially benefit from probiotics' balancing effects — but they'll all give your skin the boost of hydration and bacteria it needs. Yum.