From Steak To Sauce, These Sauté Pans Sear, Braise & Poach Foods To Perfection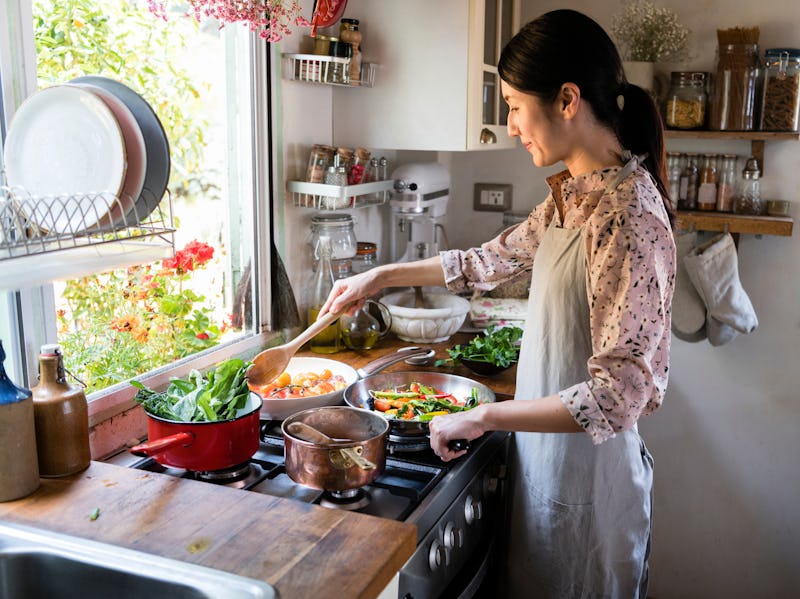 Shutterstock
Sauté pans and skillets may be used interchangeably in kitchens, but the best sauté pans has some key characteristics that set them apart. Straight sides give sauté pans greater volume than a frying pan, so you can comfortably fit more food for braising or searing; those higher walls also help keep sauces inside the pan.
Materials
Stainless steel is a popular cookware choice for its durability, versatility, and attractive look, though it can be an investment. Top of the line stainless steel pans are designed with tri-ply construction, meaning there's an aluminum layer sandwiched between stainless steel, for even heat distribution. If you're looking for a nonstick option, look for a ceramic-coated sauté pan, which can withstand heat without breaking down and is a nontoxic choice to boot.
Size & Design
A 3-quart sauté pan is versatile enough for most kitchens. A larger 5-quart pan can be useful for cooking larger quantities at once, especially for families, but keep in mind anything larger may have a wider diameter bottom and not heat as evenly over a standard 12-inch burner.
Compared to a skillet, a sauté pan is noticeably weightier. A short helper handle, in addition to the long handle, makes it easier to move the pan. A matching lid is also useful for a pan that is particularly suited to braising.
The best sauté pan is a kitchen workhorse, and now that you know what to look for, keep reading to find the best one for you. Note: Each of the pans below is conveniently dishwasher safe.
We only recommend products we love and that we think you will, too. We may receive a portion of sales from products purchased from this article, which was written by our Commerce team.