The 5 Best Pans For High-Heat Cooking
Highly rated picks that can withstand scorching temps.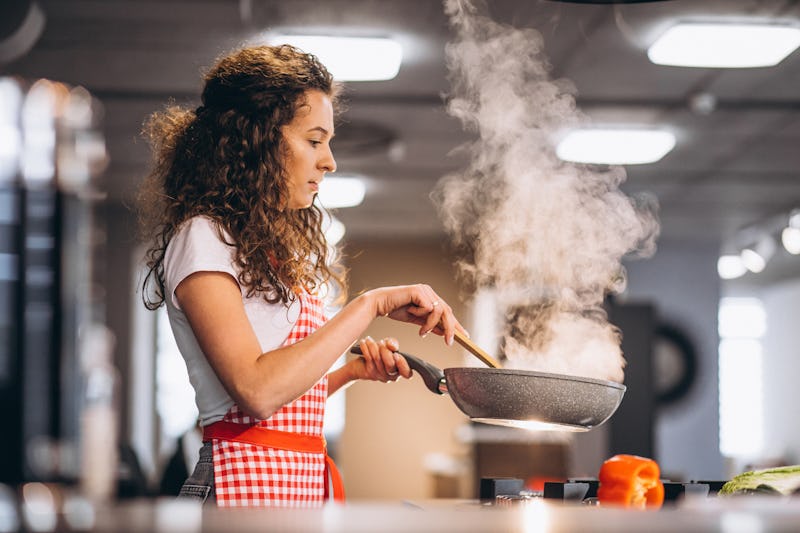 PH888 / Shutterstock
We may receive a portion of sales if you purchase a product through a link in this article.
For sautéing, searing, and stir-frying, you need cookware that can handle blazing temperatures. For safety and superior results, the best pans for high-heat cooking are made from cast iron, stainless steel, or carbon steel. All are great choices for cooking at high temps, but each comes with pros and cons. Here are a few things to consider when evaluating which material to pick for your high-heat pan.
Materials To Consider When Shopping For The Best Pans For High-Heat Cooking
Cast Iron
The best cast iron pans are perfect for high-heat cooking since they're highly durable (cast iron can last for decades), boast superior heat retention, and can withstand scorching temps on the stovetop or in the oven. The material is relatively low-cost, too. That said, cast iron is quite heavy, and it isn't dishwasher safe — and should be dried throughly on all sides after cleaning to prevent rust. Cast iron requires regular seasoning (read: brushing the pan with oil, then baking in the oven for one hour), so if that's a deal breaker, you might want to opt for an enameled cast iron pan.
Enameled cast iron offers the same heat-retaining benefits of a cast iron body with a smoothly coated cooking surface that doesn't require seasoning. While not technically nonstick, food shouldn't stick to too badly to enameled cast iron— so it's a great alternative to other nonstick cookware options, which are not compatible with high-heat cooking (the nonstick coating can melt or break down at higher temps). To prevent sticking when cooking in enameled cast iron (and really, any type of pan), make sure to heat your pan for two to three minutes on medium heat, then add a thin layer of cooking fat before tossing in your ingredients. The hot cookware and oil will naturally form a barrier that protects against sticking.
Stainless Steel
If you're looking for a low-maintenance, dishwasher-safe pan, stainless steel is your best bet — and it's a lightweight pick, too. It's a classic choice but keep in mind that it isn't the best heat conductor on its own, so make sure to look for a stainless steel pan that's paired with a super-conductive copper or aluminum base — this will help promote even results and prevent hot spots.
Carbon Steel
Finally, carbon steel is an extremely durable option that's more conductive (though moderately heavier) than stainless steel. It's not dishwasher safe (though it's easy to wipe clean with a paper towel) and requires regular seasoning. In essence, it's a similar pick to cast iron.
With all that in mind, here are the best pans for high-heat cooking.
Shop The Best Pans For High-Heat Cooking
In a hurry? These are the best pans for high-heat cooking:
1. A Low-Maintenance Stainless Steel Skillet That Comes In A Wide Range Of Sizes
If you're looking for a dishwasher-safe option that can handle high heat, look no further than this sauté pan with a lid from Cuisinart. The skillet is made from stainless steel — which shouldn't get discolored or react with foods — with an aluminum base for quick, even heating. A glass lid allows you to see the contents inside while cooking, so you can easily monitor progress. It has a 4.6-star overall rating on Amazon, based on more than 70,000 reviews. Oven safe, this pick comes in a wide range of sizes, ranging from 7 inches (perfect for small batches or morning eggs for one) to a large pan that measures a whopping 16 inches.
Enthusiastic Amazon review: "These pans work well for all types of food - I use them most often for eggs/omelets and stir-fry vegetables. I also use them for frying, sauteing and reheating. The two sizes work well, giving a lot of flexibility. Best of all, they clean very easily. I like them so much, I ordered another one."
Available sizes: 7 inches — 16 inches (sold in 1-inch increments)
2. An Enameled Cast Iron Skillet That Doesn't Require Seasoning
Like the idea of cast iron pans, but don't want to deal with the seasoning process? This pan from Crock Pot has all of the benefits of bare cast iron with the added bonus of an enameled finish that you won't have to season. It's been rated by more than 1,700 Amazon customers, and has an overall 4.5-star rating. The oven-safe pan can be used on all types of heat sources — including gas, electric, induction, and ceramic stoves — and is great for searing, frying, sautéing, roasting, stir frying, and more. The pan has two spouts for pouring sauces and drippings without any mess. And thanks to that enameled finish, the food should slide right out. Hand washing is recommended by the brand.
Enthusiastic Amazon review: "I've been hesitant to buy a cast iron skillet but thought maybe I could get all the awesome benefits with an enamel cast iron skillet. I love it! Best skillet I've used for eggs. I even bought a second one so I can do potatoes eggs in separate skillets to be done at the same time. So worth it."
Available sizes: 8 inches, 10 inches, 12 inches
3. A Fan-Favorite Cast Iron Skillet With Exceptional Durability
With more than 38,000 reviews on Amazon and a stellar 4.7-star rating overall, this Lodge cast iron skillet is clearly a favorite on the site, thanks in part to its unrivaled versatility. The skillet can be used over virtually any heat source — in the oven, on the stove or grill, or over a campfire — to sear, sauté, bake, broil, braise, or fry up a tasty meal. Cast iron is known for its superior heat retention, and this pick is no different. The skillet comes pre-seasoned with vegetable oil, but it needs to be regularly seasoned in order to stay in good shape, so it does require some minor upkeep. It's also hand wash only, so if you're set on something that can go in the dishwasher, this isn't your best bet. This pick comes with a silicone handle cover so you can safely hold it without getting burned, however it can still get pretty hot, so use of a potholder or oven mitt is a good idea. Perhaps the best part: Cast iron is exceptionally durable, and known to last for decades with proper maintenance.
Enthusiastic Amazon review: "I can't imagine why I hesitated to buy a cast iron pan. This Lodge 8" with silicone handle cover is the best. I did season it 1 time before use, but that was probably unnecessary. Nothing sticks to it. It is very easy to clean. I use it on my glass top electric stove. It is a bit heavy, but not bad. I can't wait to cook something else on it."
Available sizes: 6.5 inches, 8 inches, 9 inches, 12 inches, 13.25 inches
4. A Carbon Steel Wok That's Ideal For More Than Just Stir Fry
This wok from Craft Wok is both a showpiece and a kitchen workhorse, with a rounded bottom and hand-hammered design that can handle high heat with absolutely no problem. It's made of durable carbon steel, and features a steel and wood handle that shouldn't get too hot, even when used over high temps. Tons of Amazon reviewers were thrilled with the number of uses they've found for this pick; while it can be used to make a mean stir fry, it's also great for sautéing and steaming food — and the high sides make it the best pan for deep frying, as well. Just note that the rounded base cannot be used on flat electric or induction stovetops, and that there will be less space for searing foods. The wok must be seasoned regularly, and it should only be hand washed.
Enthusiastic Amazon review: "Very solid heavy duty wok. Solid handle, solid construction. Heat treating for seasoning went great. [...]The first thing I cooked was bacon lardons, rendered them down and then scrambled eggs, scrambled in the wok. Not a bit of sticking. Wiped clean with a splash of water and a paper towel. Totally satisfied and one happy camper. Buy with confidence."
Available sizes: 12 inches, 14 inches
5. A Cast Iron Grill Pan That Can Be Used On Your Stove
Achieve amazing grill marks on your favorite meats, veggies, and more, thanks to this grill pan from Lodge. The pan is made of cast iron, so it's an excellent pick for heat retention and even cooking, and it can be used on all cooking surfaces, including in the oven and even on campfires. While two handles and a red silicone handle cover make the pan a little easier to lift, it's quite heavy due to the material. But this fact doesn't seem to deter Amazon buyes who have given this pick an impressive 4.6-star rating overall, among 4,000 reviews. The pan comes pre-seasoned, but it needs to be regularly seasoned in order to stay in good working order. Like the other cast-iron pan, this one is also hand wash only.
Enthusiastic Amazon review: "Great pan. Heats very evenly, great job with grill marks if that is important to you. Cleans real easy with just hot water and brush. Very impressed so far."
Available sizes: 10.5 inches
This article was originally published on