The 4 Best Shower Cleaners For Mold & Mildew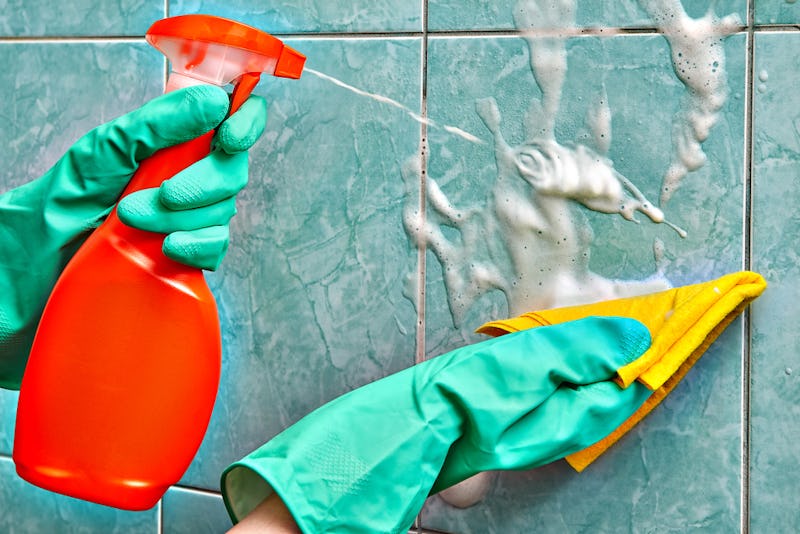 Grigvovan/Shutterstock
Whether you love cleaning your bathroom or tend to put it off as long as possible, the best shower cleaners for mold and mildew will make the job significantly easier. These products cut through the grime to lift those stains and prevent them from building back up as quickly.
Though the best cleaners will be successful at removing pesky mold and mildew in your shower, it's important to know why it's there in the first place. The biggest source for both is moisture. If your bathroom has minimal ventilation, consider investing in a small dehumidifier or a window fan with an exhaust function, as they'll help draw out any residual dampness from your shower. Another great thing to have handy is a plastic squeegee. Regularly using one to wipe away the water droplets on your shower tiles and/or door eliminates the breeding ground for mold and mildew.
With the problem under control, you can clean your shower on a schedule without worrying about excessive buildup between deep cleans. It's important to note that most mold and mildew cleaners contain bleach so always ventilate the area and wear personal protective equipment (e.g., rubber gloves) to be safe.
With all this in mind, I've compiled a few different kinds of shower cleaners for the job, each with a four-star rating or higher on Amazon. Keep reading to shop 'em all.