The 4 Best Unbreakable Dinnerware Sets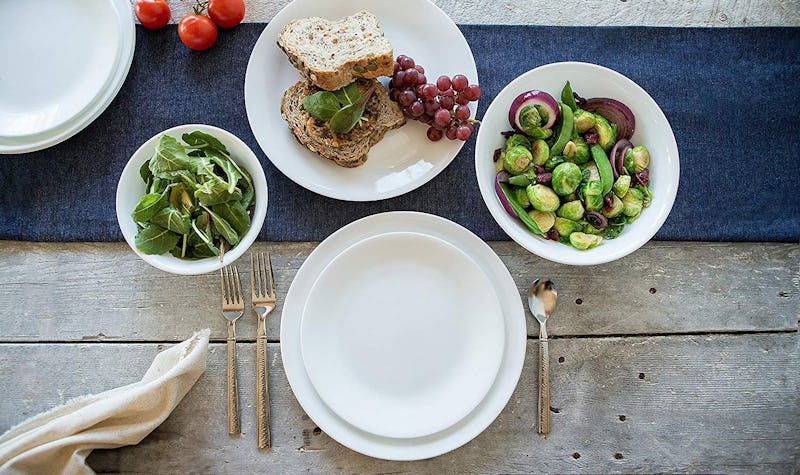 Amazon
We've come to expect a lot from our dinnerware: We stack it, we slice on it, we sometimes leave it in the sink, and (occasionally) we drop it. So if you think that only paper plates are immune to shattering, you should know that it's possible to find attractive, unbreakable dinnerware that you'll actually want to use. But what does it mean for dinnerware to be unbreakable? Here are a few guidelines to follow when choosing the best unbreakable dinnerware for your home.
A search for unbreakable dinnerware on Amazon will return many options that don't fit the bill. Very few materials can withstand extreme impact and temperature shock (imagine plunging a hot plate into ice water) without breaking, chipping, or warping. For dinnerware that won't break when dropped, your best bet is to look for melamine, a highly-durable, BPA-free plastic.
But, there are a few caveats with melamine. Because of its chemical composition, melamine dinnerware must be carefully cared for. Testing from the Taiwan Consumer's Foundation found that under extreme lab conditions (think extreme heat for long periods of time), some of the chemicals in its composition can migrate into acidic foods. For this reason, melamine dinnerware shouldn't be microwaved or reheated in the oven. (You can read more about the FDA's findings on the safety of melamine.)
If you'd rather avoid those concerns, certain types of porcelain glass and stoneware have been engineered to resist damage, able to go from the fridge to the microwave to the dishwasher. Expect them to stand up much better than traditional dinnerware, but remember, under extreme circumstances, they're not immune to chipping or even breaking.
Whether you plan to use your dinnerware on a patio or at a picnic, or are just a little accident-prone, the best unbreakable dinnerware is below.