You Can Whip Up Fluffy Waffles At Home With These Top-Notch Waffle Makers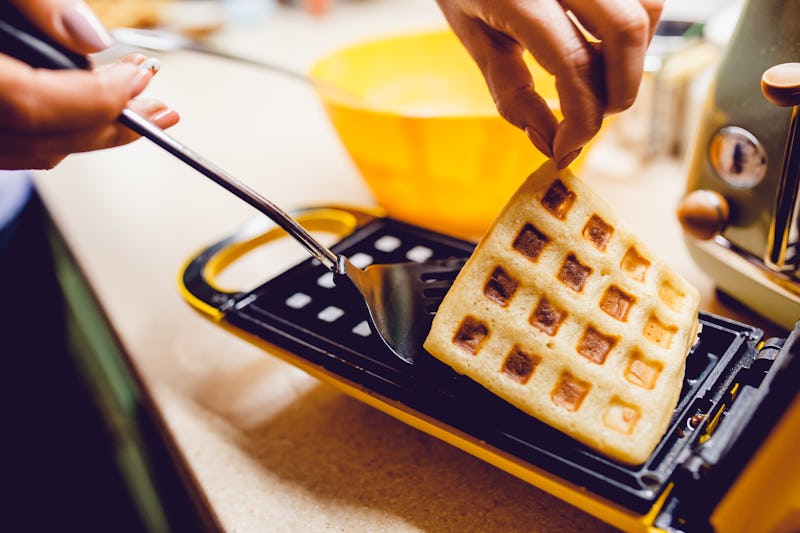 fotolia/Parilov
Forget frozen, nothing beats the taste or smell of freshly-made waffles. And with the best waffle makers, it's super simple and easy to whip up perfectly-cooked, homemade waffles every time.
Although waffle makers all basically function the same, where they differ is the size. Classic waffle makers typically produce a single 7-inch or so waffle — and that may be all you need. However, anyone who's ever made waffles for a crowd of hungry people knows how slow it can be to make a batch of waffles one by one. By the time you've finished, half of the waffles are already likely to be cold. That's why for large families or groups of waffle-lovers, investing in a four-slice waffle maker can make a lot of sense, although it will likely come with a higher price tag.
Meanwhile, for solo waffle-eaters, a mini waffle maker that makes snackable-sized waffles might be more your style, and you can even find ones that make novelty-shaped waffles, like hearts.
Lastly, if you'd rather not own a separate waffle maker and pancake griddle, look for a waffle maker with removable plates. A two-in-one gadget will allow you to switch between waffles and pancakes, while taking up much less storage space in your kitchen cabinets.
For more on the best waffle makers you can buy, scroll down to see the four top picks below.