5 Affordable Face Wipes On Amazon That Won't Irritate Or Strip Your Skin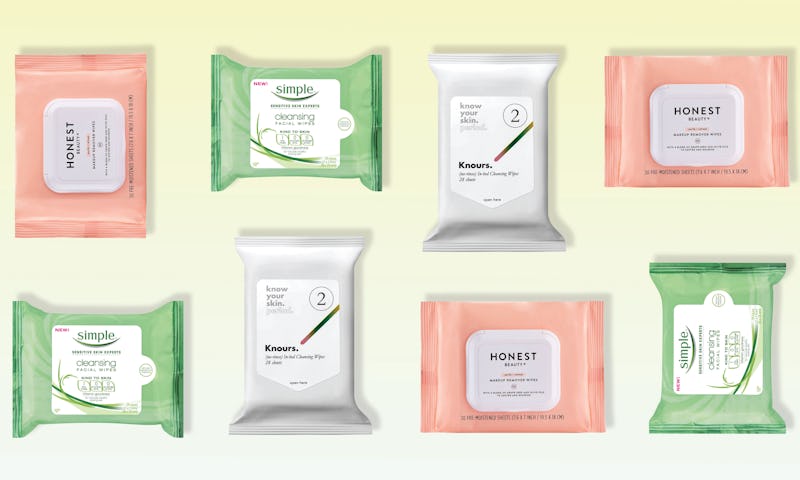 Amazon / Bustle
Though a staple for many, face wipes are a somewhat controversial product in the beauty scene. Using the wrong wipe can cause irritation, since you're, well, wiping them along your face. But as long as you're using face wipes that are made with gentle, non-stripping ingredients, you should be in good shape. Ahead, a guide to the best face wipes on the market — but first, a few tips on how to use face wipes properly.
Face wipes mainly get a bad rap when they're used in place of cleanser, because they don't adequately remove makeup and oil on their own. Think about it: when using a wipe as your primary cleansing method, you're not only leaving some leftover makeup behind — you're literally spreading it around the rest of your face. Plus, the face wipes themselves might contain ingredients, like cleansers and preservatives, that can cause irritation if not rinsed off. Therefore, face wipes should only be used as the first step in your cleansing process, to remove stubborn eye makeup and lipstick. If you don't follow up with a proper cleanser, you risk leaving a lot of those pore-clogging debris and potential irritants on your face.
You also want to make sure you're using a wipe made with skin-safe ingredients. Avoid anything with sulfates, which can feel stripping, and look for wipes that contain moisturizing or soothing ingredients to counteract any dryness or irritation. And since face wipes, like any other beauty product, aren't one-size-fits-all, make sure you're picking a wipe that was formulated for your skin type.
Below, five of the best cleansing wipes you can trust.