Trouble Sleeping? Amazon Reviewers Swear By These Melatonin Sleep Aids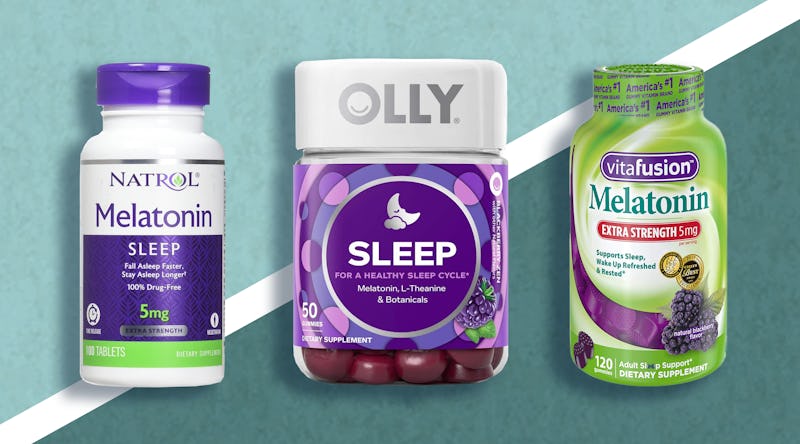 Bustle/Amazon
Between the round-the-clock news cycle and hours in front of screens, getting a good night's rest is tougher than ever. Sleep solutions ranging from blue-light-blocking glasses to white noise machines are on the rise, and Dr. Kasey Nichols, N.D., has seen an uptick in people looking for the best melatonin sleep aids. But first, a little background.
"Melatonin is a hormone released by a structure in our brains called the pineal gland," Dr. Nichols, a naturopathic doctor at Onyx Integrative Medicine & Aesthetics tells Bustle. "[It] is released due to the absence of light hitting the retina." So basically, when it's dark, melatonin gives your body the go-ahead to get some sleep. But with so many screens and bright lights a part of our daily lives, you may not be making the amount you need at the time you need it to fall and stay asleep. This is where a good melatonin supplement comes in.
The key to finding a great supplement is to consider your personal sleep needs. For example, if you have a hard time falling asleep but can stay asleep throughout the night, Dr. Nichols recommends a "a chewable melatonin supplement [that] may get into the bloodstream a little quicker." On the other hand, if you tend to wake up a lot, a sustained-release tablet that delivers melatonin all night may be your best bet.
As with all medication, Dr. Nichols also recommends to start at a low dosage at work your way up, and if it isn't effective after awhile, to consider the source of your sleeplessness. He says, "Melatonin supplementation for insomnia caused by anxiety, racing thoughts, or depression is unlikely to be beneficial." In this case, it's important to talk to your doctor to explore out other solutions.
Ready to give it a go? Here are some of the best melatonin sleep aids out there. Pro-tip: These are sorted from the highest dosage to the lowest dosage per tablet or gummy, but also pay mind to the recommended dosage by the manufacturer.
We only recommend products we love and that we think you will, too. We may receive a portion of sales from products purchased from this article, which was written by our Commerce team.