Hey, Pup Parents! Choose These Tasty Organic Treats For A Snack Everyone Will Feel Good About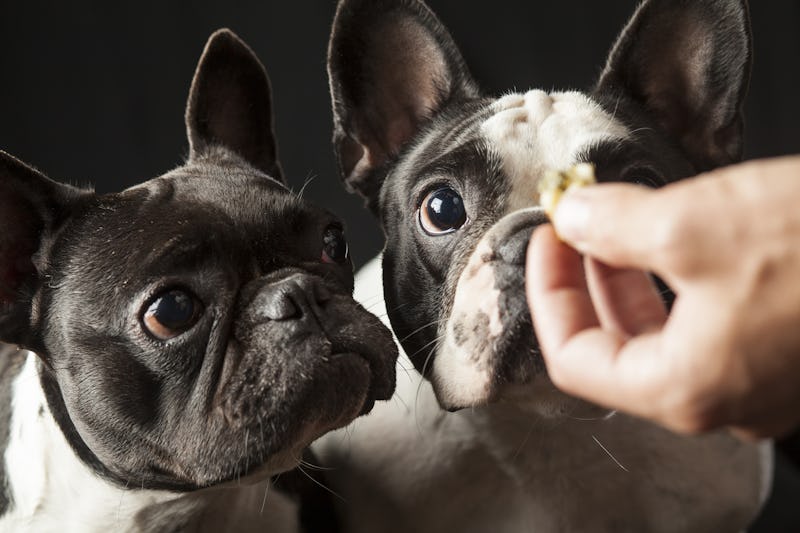 Shutterstock
When you laud your pup with treats, you may want to consider supplying them with ones made with natural ingredients that are actually good for your pup. The best organic dog treats are certified organic, tend to be low in calories, and come in flavors that get a puppy high five.
To bear the USDA Certified Organic seal, protected by federal regulation, producers and manufacturers must follow strict rules which include not using antibiotics, GMOs, and many pesticides. So while "natural" doesn't mean much, the organic seal does, and all my picks below are made with ingredients that have been certified.
Now that we have that cleared up, when you're shopping for some tasty treats for your bestie, here are a few things to consider:
Calorie Content: Be sure to get the right treats for the situation. Training treats tend to be extra-low in calories so you can give lots in a day, while a higher-calorie jerky treat might be nice for a birthday or other big (and less regular) moment, especially if your dog is on the smaller side. And if you're in the habit of handing out treats freely, consider buying one that's low in calories or choosing one that's easy to break into pieces.
Ingredients: Beyond looking for an organic seal, keep in mind your dog's sensitivities or allergies. Many of the following are free of common allergens like soy and wheat.
Texture: Finally, you'll want to consider the texture of the treats you buy. Older dogs may have more dental health issues and softer treats would be best to ease discomfort from chomping. On the flip side, treats with a crunchy texture can help scrape away plaque and tartar on your pup's teeth if they can handle them.
To get you started, scroll on for the best organic dog treats on Amazon that have been pet parent approved.
We only recommend products we love and that we think you will, too. We may receive a portion of sales from products purchased from this article, which was written by our Commerce team.