The 5 Best Organic Moisturizers With SPF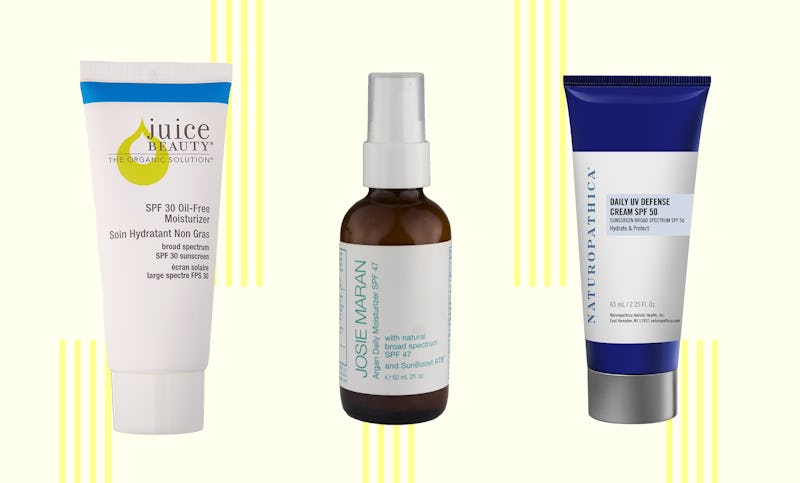 Amazon/Bustle
If you're into using organic skin care products, you're already well aware of how important it is to invest in formulas that are as natural and chemical-free as possible. At the same time, UV protection is a must — and these organic moisturizers with SPF kill two birds with one stone: they provide the hydration your skin needs in addition to broad-spectrum UVA and UVB protection. What could be better than a multi-tasking product that saves you money and time?
There are several benefits to using organic and natural beauty products — one of the best arguments in favor of them is that plant and fruit extracts can be just as (or more) powerful than their synthetic counterparts. No offense to science, but what's the point of trying to recreate the natural benefits of ingredients like sea buckthorn and marula oil when they can be sourced botanically. Those are just two examples of the plant-based powerhouses you'll find in organic moisturizers.
There's also less of a chance your skin will react to natural and organic beauty products — a consideration if you have sensitive skin — and they're just plain better for the Earth and environment. Add SPF to the equation, and you've got a safe and natural moisturizer that protects your skin from all of the elements, including dangerous UVA and UVB rays.
Instead of having to apply two different products on your face each morning, these organic moisturizers offer sun protection and contain incredibly nourishing antioxidants, vitamins, plant extracts, and essential oils that provide intense hydration. Of course, buy investing in a two-in-one product, you're also saving time and money.
So without further ado, check out the best organic SPF moisturizers, below.