5 New Face Washes To Try — & They All Contain One Very Unique Ingredient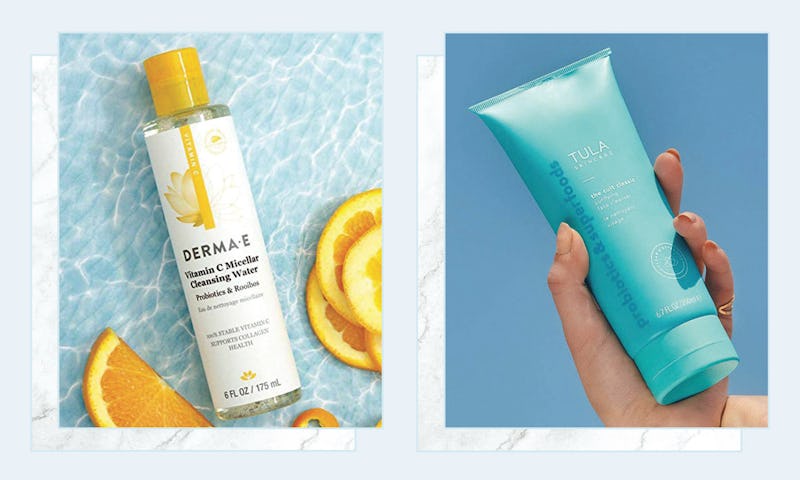 Bustle/Amazon
Everyone likes an oxymoron. Think definitely maybe, or the "Big Short," or lots of other phrases that aren't also movie titles. But in the skin care world, there's one oxymoron to rule them all: Good bacteria. It's this improbable principle that makes the best probiotic face washes so effective.
Here's how it works: Just like your gut, your skin barrier is home to a diverse network of microorganisms (a.k.a your microbiome). When your microbiome is in check, that barrier is strong enough to ward off natural and environmental stressors that can cause all kinds of skin conditions, from run-of-the-mill redness and irritation to psoriasis, eczema, and acne. So you can guess what happens when your skin flora is out of whack.
Probiotics in skin care products, like face washes, are infused with friendly bacteria that help rebalance your microbiome, both by promoting the proliferation of your skin's good bacteria and inhibiting the growth of bacteria that can cause infections. Although typically ingested in capsule form, or as fermented foods like kombucha and kimchi, probiotics are equally effective for your skin when applied topically. Beyond keeping infections at bay, Dr. Roshini Raj, a practicing gastroenterologist and founder of probiotic skin care line TULA, told me that "probiotics act as a protective layer on the skin, locking in moisture for a more radiant, hydrated and balanced appearance." Relatively new to the skin care space, Dr. Raj calls these clinically proven products "a true breakthrough in skin care."
Of course, the best probiotic face washes are actually intended to clean your skin; the probiotics in the formulas just add an extra hit of strengthening, hydrating, radiance-boosting goodness. It's also worth mentioning that probiotic face washes (and any other probiotic skin care product, for that matter) are safe and effective for all skin types, including those that typically require special attention. Probiotics are a truly all-purpose ingredient, since everyone has a microbiome that needs to stay balanced.
Everyone has skin that needs to be cleansed, too. And with that in mind, I'll run you through five of the best probiotic face washes you can get right now. From an all-purpose gel cleanser to a refreshing micellar water, bacteria has never felt so good.