The 5 Best Silicone Stretch Lids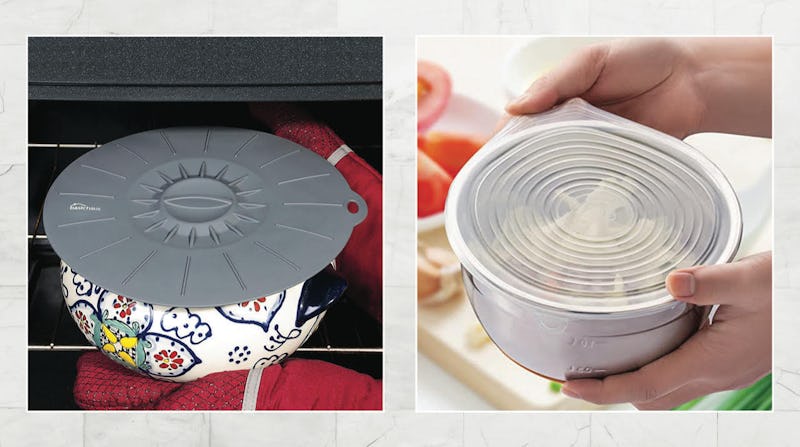 Bustle / Amazon
For convenient storage — and less food and plastic waste — you need the best silicone stretch lids. Below, I've rounded up a variety of silicone lid sets that should last for years to come. Whether you cook, bake, or live on takeout, my picks below will simplify your life in the most satisfying way.
When shopping for silicone lids, you'll naturally want to think about what types of dishes or cookware you're buying your lids for. These days there's a smartly designed set of silicone lids to fit everything from bowls to pots and pans, even coffee mugs.
Next, it's important to know that some types of silicone are better than others. FDA-approved silicone is the base standard for silicone bakeware, cookware, and food storage items in the United States and Australia. However, FDA-approved silicone products go through less rigorous testing than in Europe, since European product standards have a higher threshold regarding food safety. Silicone lids bearing the LFGB label, which is used specifically in Germany and France, are the gold standard when it comes to food safety, as LFGB standards are the most comprehensive. All the picks below explicitly advertise using either food-grade silicone (which means they are FDA compliant) or LFGB-approved silicone.
Another pro tip: You can determine the quality of your silicone lid by pinching and twisting a flat part of the lid — if it turns white, then you know it contains fillers, and as such isn't 100% pure silicone.
With all of this in mind, take a look at the best silicone stretch lids Amazon has to offer. There's a set for every dish type, and they're all highly rated.