5 Comfy Socks For Cowboy Boots That Won't Slide Down & Are Great For Sweaty Feet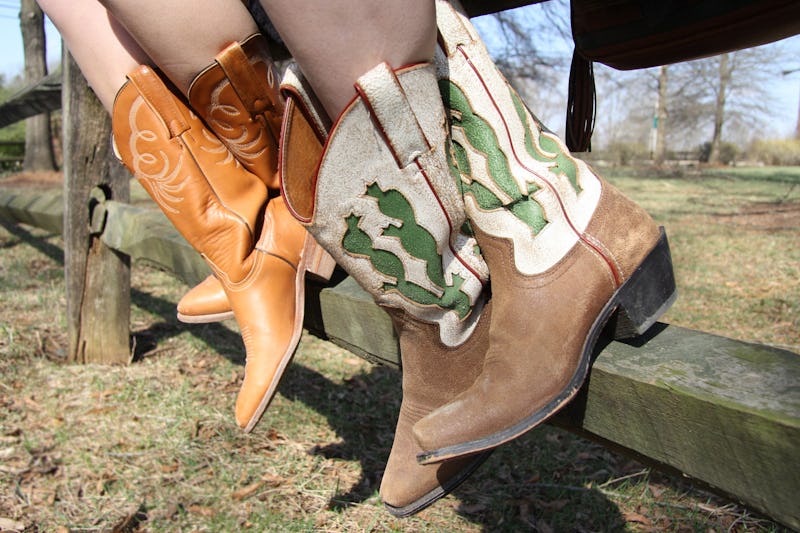 Ruthie Rafte/Shutterstock
When it comes to finding the best socks for cowboy boots, grabbing any old pair from your sock drawer just won't do. To keep your feet as happy as possible, you're probably going to want to invest in socks that will provide great height, breathability, and cushioning.
For starters, you'll want to purchase a pair that's high enough to reach your calf muscles while offering the ability to stay up (so you won't find yourself constantly pulling at them all day). Getting a tall pair with ribs or elasticity around the top will help keep the socks in place, while also protecting your boots from rubbing and chafing against your skin. Spandex in the makeup of your socks is a good choice, because it'll help add some stretch that's needed to keep them in place.
With that being said, the socks' overall material construction will also be an important factor in your decision-making process. Great cowboy boot socks are often made with moisture-wicking fabrics that keep odor and sweat at bay while also providing breathability. Merino wool and polyester are often used because of their moisture-wicking capabilities. Acrylic is another popular moisture-wicking material, but many types are not as breathable as the others. (It still boasts the ability to retain heat, though.) Meanwhile, a nylon blend is also viable when it comes to boot socks, because nylon can wick water away, too.
Whether you're looking for long socks, short socks, or something budget-friendly, you're sure to find the best socks for cowboy boots on this list.