Ink Lovers: This Sunscreen With Hemp Oil Will Keep Your Tattoos Bright — Plus 4 More To Try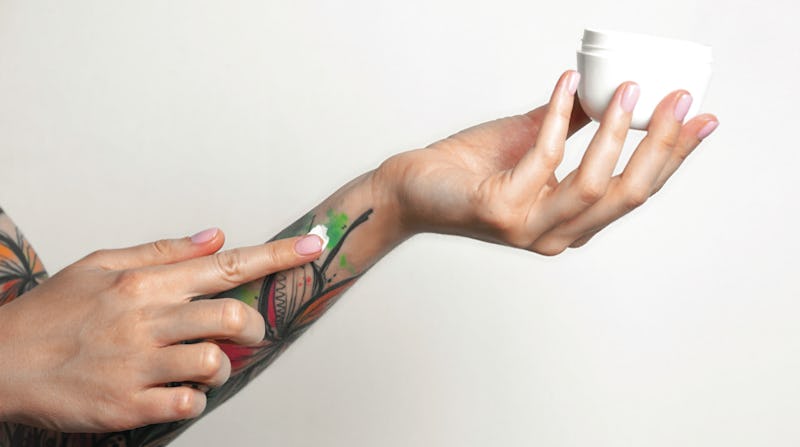 Shutterstock/Artem Markin
Inked skin has its own set of needs, and the best sunscreen for tattoos — according to everyone from medical professionals to Reddit — is one with high SPF that you'll actually reapply. Whether that's getting a tattoo-specific formula so you're more motivated to put it on or an easy-to-use stick you can reapply on the go, consistency is what counts.
The American Academy of Dermatology recommends starting with broad spectrum SPF 30 at a minimum. There are two main types of sunscreens: physical and chemical. Physical sunscreens include mineral ingredients, like zinc oxide and titanium dioxide, that are considered safer for humans and reefs, but chemical sunscreens are typically easier to spread and less likely to leave a white residue. Since both are effective at keeping your tattoo protected from harmul UV rays, you'll find both types here.
Then, think about what type of application will be most convenient for you to use every single day. Is that a spray you can mist on a hard-to-reach piece? What about a stick that's easy to toss in your bag and reapply? Or do you prefer a classic lotion with a non-greasy finish you know won't feel make you feel too beachy? No matter which one feels right for you, they key is to wear it regularly to prevent the sun from degrading your tat.
Since you can't apply any sunscreen to new and healing tattoos, you'll need to keep your ink physically covered for the first few weeks. A lightweight shirt or pants with UPF will net you a lot of use in the first month after you get tattooed, and is also just a nice additional layer of protection to have on-hand after the fact, which is why I've included a wearable top with UFP 50+ below as well.
From tattoo sunscreen sticks and kits to the best all-purpose sunscreens you won't mind using liberally, these five products are the next step to protect your tattoos after they've healed.
We only recommend products we love and that we think you will, too. We may receive a portion of sales from products purchased from this article, which was written by our Commerce team.