6 Incredibly Hydrating Moisturizers That Also Relieve Redness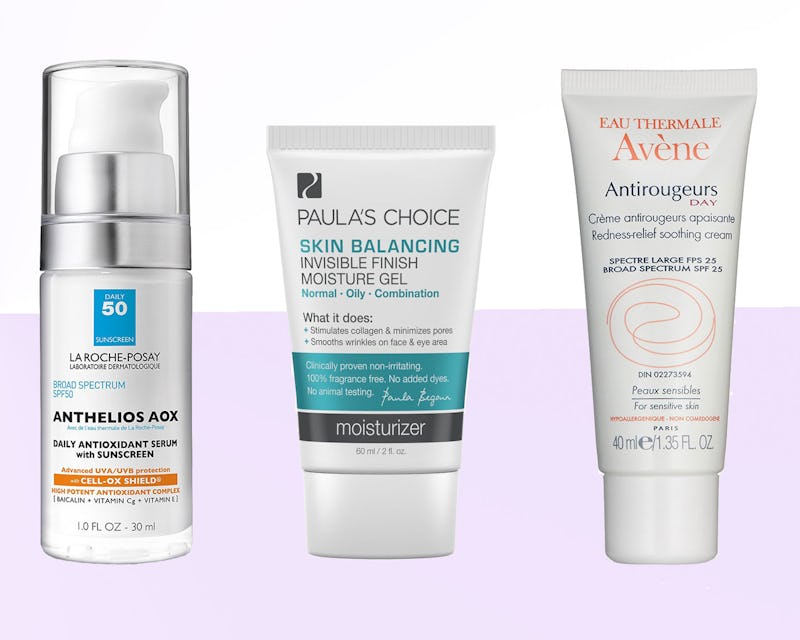 Amazon/Bustle
Whether it's the result of rosacea, a reaction to a product, or over-exfoliation, a red complexion isn't always easy to treat. The best moisturizers for redness, however, work to reduce inflammation, discoloration, and irritation, resulting in skin that looks smooth and feels healthy. So, if chronic redness is an issue for you, it's certainly worth swapping out your regular old day cream with one of these multi-tasking formulas.
Your skin type and the cause of your redness (if you can narrow it down) are important things to know in order to choose the right moisturizer for you. If you have rosacea, your skin needs moisture from products and ingredients that are safe for sensitive skin. Niacinamide, hyaluronic acid, and panthenol, for example, hydrates dry skin without irritating it or worsening acne flare-ups. If you have redness from acne scarring or breakouts, look for lightweight, oil-free products that contain antioxidants or nutrients to increase cell turnover. Lastly, if your skin is red from elemental over-exposure or over-exfoliation, your priority should be healing the skin's moisture barrier and reducing inflammation. In this case, look for heavy-duty nourishing ingredients like aloe, argan oil, and shea butter.
Below you'll find six of the best moisturizers for redness for every skin type and concern.