6 Cute And Comfy Robes To Buy Now, Because Wearing Clothes At Home Is Overrated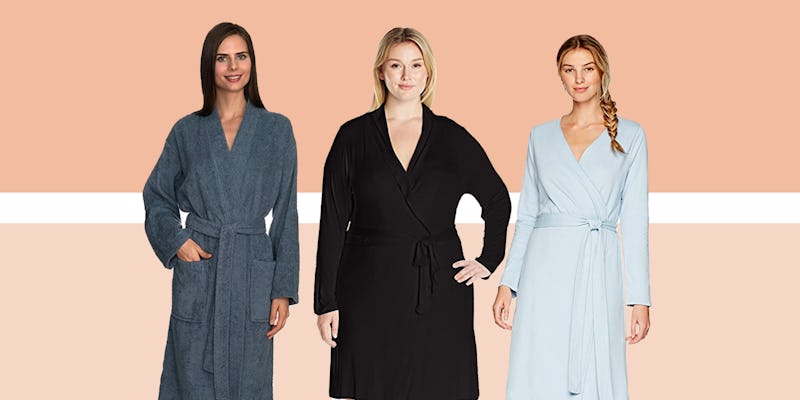 Amazon/Bustle
If you love nothing more than coming home from work and getting cozy on your couch, but you don't yet own a robe, all of your ideas about comfort are about to come crashing to the floor (in a good way). The best robes for women can be found on this list — they include styles, fabrics, and features (hello, pockets) that will suit everyone's personal needs — and that will make you forever change your definition of a "comfy night in."
When some of us think of robes, cozy winter robes are often the first that come to mind. And while this list certainly includes those plush fleece nightgowns that are so toasty, you won't want to part ways with them until at least April, they aren't the only options out there. If you live in a warm climate or are searching for a silky piece of loungewear to wear while you get ready for a night out, a short or long Kimono-style robe in satin or polyester is perfect. If, however, you plan on ending every shower in your new robe and absorbency is the most important feature you're looking for, it doesn't get much better than Turkish cotton.
Whatever robe style you choose, make no mistake about it: You need a robe to be your most comfortable, breezy self. Here are six of the best bathrobes for women, below.