The 6 Best Wooden Hair Brushes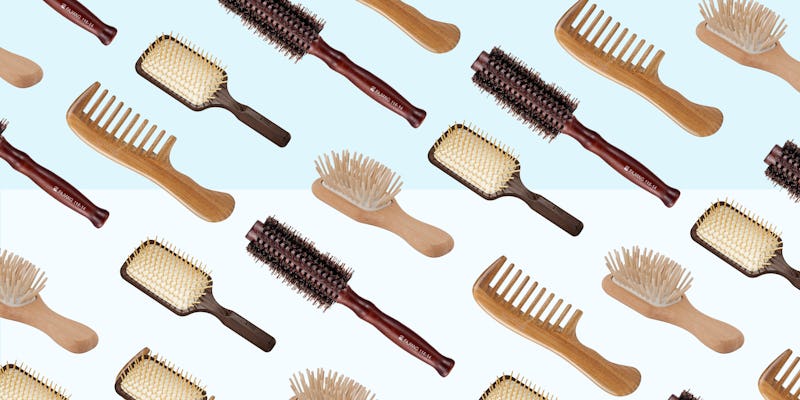 Bustle/Amazon
When you're ready to reap the benefits of a wooden hair brush, it can be tough to figure out which one is right for you. The best wooden hair brushes, however, stand out because their shapes and designs allow them to eliminate static and gently detangle your hair. That being said, it's easier to shop for a wooden brush when you know what to look for and what to avoid.
Before you buy, think about how and when you use your current hairbrush. Do you use it mainly to detangle wet hair or do you keep it with you all day so that you can add volume and shine whenever you want? A wide-tooth wooden comb, for example, is better for damage-free detangling whereas a mini brush with wooden bristles is great for styling (and reducing static!) on-the-go.
Also, you'll want to consider both your hair type and the style you wear most often before you choose a brush. A large paddle brush is better for long, thick hair, whereas a smaller, rounder brush is great for fine, thin hair that needs a boost from targeted scalp massage.
To make your decision a little easier, below are six highly-rated wooden hair brushes that will deliver all of the benefits you've been looking for in a brush: reduced static, gentle detangling, and serious durability.