If Your Dog Is Suffering From Separation Anxiety, These Calming Aids Are All Vet-Approved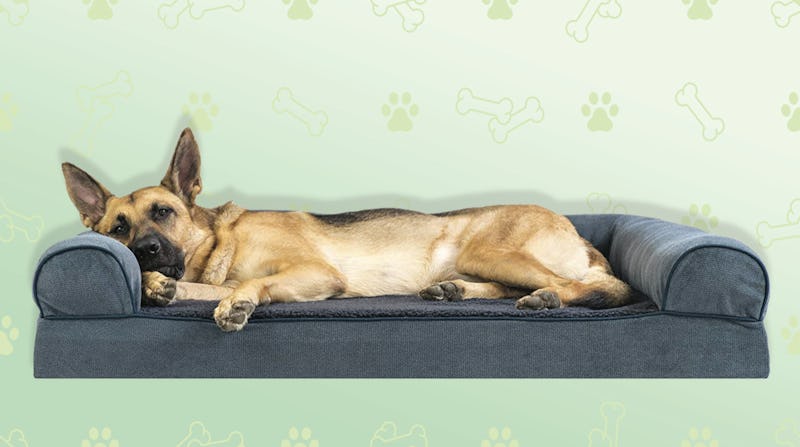 Bustle/Amazon
In dogs, separation anxiety is often triggered by a stressful event and can present itself in a variety of ways. But before shopping around for a solution, it's important to consult with a vet or a behaviorist to rule out any underlying medical issues and understand what the most ideal options are for your pup. According to the veterinarian and creator of The Balanced Pet Vet, Dr. Tori Counter, DVM, the best calming aids for dogs with separation anxiety can come in many forms, including collars, sprays, toys, and treats. Which one you choose, however, will depend on your situation and your pet's preferences and you may need to do a bit of trial-and-error to figure out what approach is best.
In fact, some owners may wind up combining a few products the most optimal soothing because, as Dr. Counter notes, "Many dogs benefit from a multimodal approach to anxiety."
For food-motivated dogs, treats with calming ingredients are a great option, since they are proven to help relax animals. "L-theanine works well with l-tryptophan to synergistically decrease the stress of the animal," Dr. Counter explains.
Similarly, she adds that collars or sprays that contain a dog appeasing pheromone (DAP) may also be useful since the synthetic pheromones used "are inhaled through the nasal passage and produce a calming effect on the area of the dog's brain that is connected to emotions and behavior."
Some pups may also benefit from a simple distraction, like a soft, lovey toy to play with or a mentally-stimulating puzzle that rewards them with treats.
Lastly, Dr. Counter stresses the importance of providing a dog with a "safe space" for them to retreat: "They need a place that they can go to if they feel vulnerable, nervous, or need to get away from the triggering event." This could be as simple as a calming dog bed designed for them to curl up against.
With all the above in mind, I've rounded some of the best ways to calm an anxious dog below— all of them are pet-parent approved and found on Amazon!
We only recommend products we love and that we think you will, too. We may receive a portion of sales from products purchased from this article, which was written by our Commerce team