7 Pairs Of High Performance Running Capris That Can Actually Keep Up With Your Workout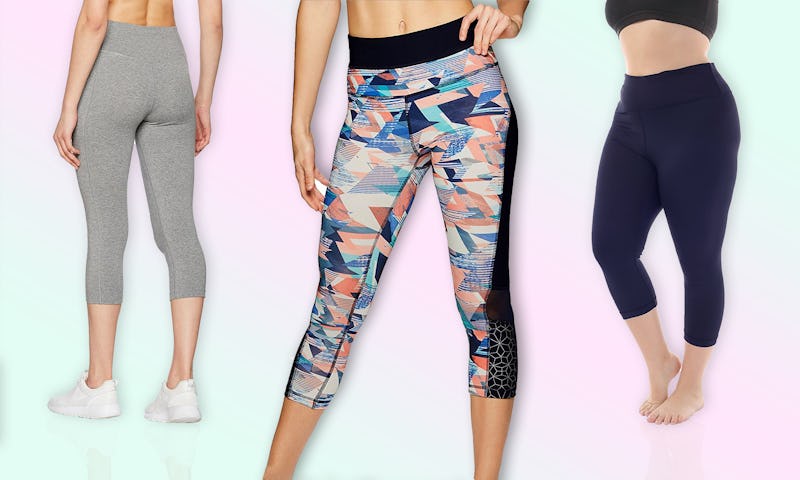 Amazon / Bustle
Leggings may have started off as athletic apparel but now they're a wardrobe staple that is worn well beyond the gym. This is great news for anyone who loves comfortable clothing (and honestly who doesn't?), but the shift from performance-focused to fashion-focused design has made it difficult to differentiate which are the best running capris for working out and which pairs should be reserved for just running errands.
The first thing to look at when picking out a pair of capris for running is the fabric. The best leggings for working out should not only be able to keep up with your workout, but should actually help to improve your performance, and a lot of that is going to come down to the fabric. While nylon, cotton, and polyester each have their own pros and cons, it's worth it to invest in new material technology like DRI-fit or Coolmax that can take moisture wicking and temperature regulation to the next level.
Construction is another factor that sets athletic leggings apart from simply stylish ones. Things like, flat-lock stitching to prevent chaffing and gussets that maximize a full range of movement are often under-appreciated features of performance leggings.
Then there are the little bonuses to consider, like leggings with pockets, picking between high- or low-waisted styles, or finding a printed pair that brings a little more personality to workout ensemble (if that's your thing).
Considering all of the above, I sifted through tons of Amazon reviews, poured over product specs, and compared price points to compile the best capri leggings for running, and here is what I found.