7 Holy Grail Sheet Masks That Won't Irritate Sensitive Skin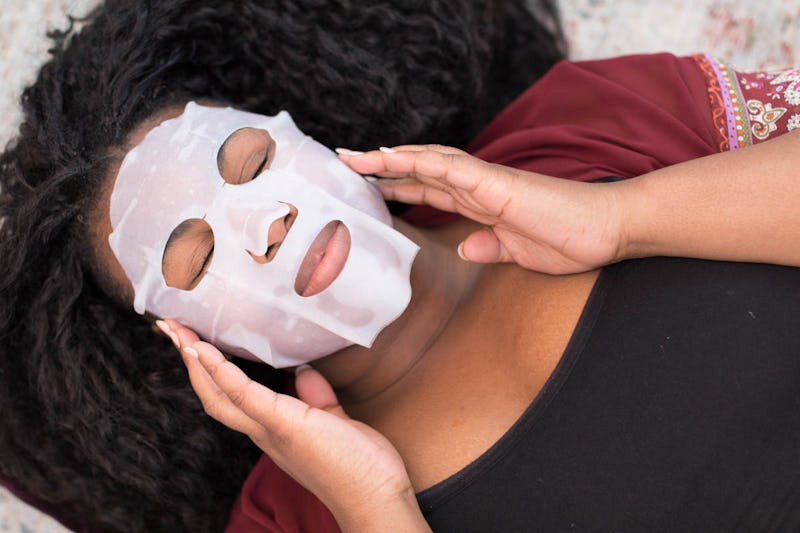 Ashley Batz / Bustle
Sheet masks are one of the fastest and easiest treatments you can give your skin. They provide a instant boost of hydration that leaves you glowing, but, unfortunately, they're often a minefield of potentially irritating ingredients. That's why the best sheet masks for sensitive skin are so hard to come by.
If you've got sensitive skin, forget about picking up a product just because it looks interesting. Choosing the right sheet mask for a delicate complexion all comes down to the ingredients. Look for masks that are free of artificial fragrance and alcohol, which can leave your skin blotchy and stinging. Products with fewer ingredients also tend to be a safer bet, since they're less likely to contain something that'll irritate you skin.
Instead of looking for masks with loads of active ingredients like salicylic acid or Vitamin C, opt for ones that are chockfull of soothing ingredients and hydration heroes that won't clog your pores — hyaluronic acid, peptides, and fermented yeast extract are some of the best. And for an extra refreshing and calming mask session, chill your mask in the fridge for a few minutes before popping it on.
Of course, everyone's skin is different, and it can be hard to identify what's causing irritation, but it's always a good idea to start with products that are free of common irritants. Once you find a sheet mask that works for your sensitive skin, there's no doubt masking will become your new favorite beauty ritual.