Yes, Cute & Functional Gym Bags Do Exist — & These 7 Are Available On Amazon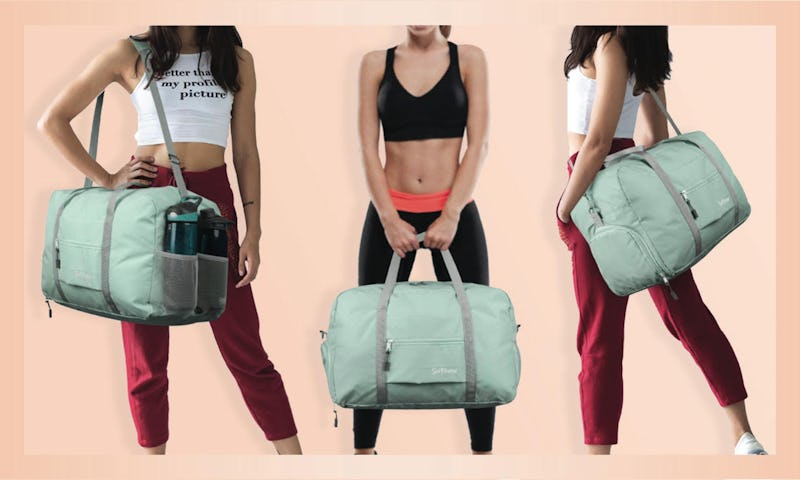 Bustle/Amazon
Did you know that your choice of fitness gear, including having one of the most fashionable gym bags, can help you complete your workout goals? According to scientific studies, when you look the part, you act the part. And your gym bag doesn't have to just be functional, it can also be eye-catching, and have qualities that will meet your individual needs as an athlete and as a human.
Before choosing your gym bag, think about the following:
What activity will you be doing?
Are you a swimmer? Then you need a gym bag with waterproof compartments. If you're a yogi, consider a gym bag that will keep your yoga mat secure. Maybe you're bringing your own equipment, in which case you'll want a bag that can stand the same weight load as you.
What do you need to bring with you?
If you're getting in a workout on your lunch break, then you might want to be prepared to shower before heading back to your desk. Apart from a change of clothes, you'll need to pack toiletries. If you never part with your laptop or like to read your tablet on the bike machine, look for a gym bag that has a padded pockets for devices. A small gym bag is a great and light option if you're not packing more than your sneakers, phone, and keys.
What other personal needs do you have?
Consider a bag with a separate shoe compartment to keep odors at bay. Look for extra beverage slots to make juggling water and coffee containers more manageable. And a water-resistant bag is a must if you live in a rainy city.
Below, I've curated the most stylish gym bags, ranging in size from a lightweight tote to a large canvas weekender. Whether you're looking for a slot for your laptop or a place to store your yoga gear, you'll find exactly what you need.