The 9 Best Cleansers For Sensitive, Acne-Prone Skin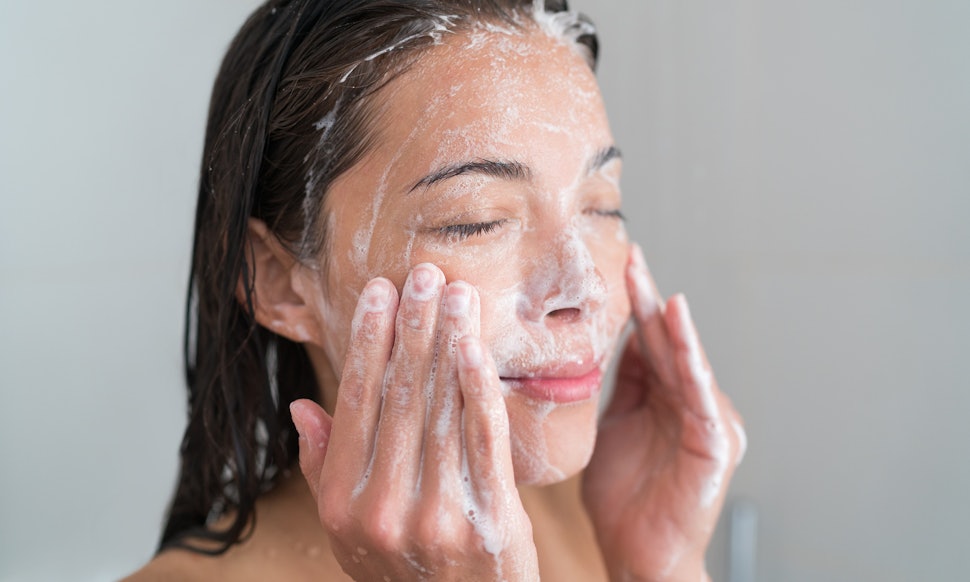 Maridav / fotolia
Cleansing is a delicate balance for any skin type, but it's especially difficult to thoroughly cleanse skin that's prone to breakouts and sensitivity. If you're lucky enough to find one, the best cleansers for sensitive, acne prone skin will leave your skin feeling soft and clean, without making your face feel tight or causing it to break out more — which is really everything a cleanser is meant to do.
Although a thorough cleanse is essential to treating breakouts and minimizing future acne flare-ups, you don't need to use a harsh cleanser to get great results. In fact, harsh cleansers can actually make breakouts and sensitivity worse by drying out and irritating your skin, and they often fail to remove makeup completely. And, if you use an acne treatment regularly, you might find that your skin is way more sensitive to harsh ingredients than it used to be.
To minimize the risk of a full-on face freakout, look for a cleanser that's free of sulfates — harsh cleansing agents that are added to products to produce foam — as well as alcohol and artificial fragrances. And, if you're buying an oil-based cleanser, which do an amazing job of thoroughly removing makeup and excess oils, be sure to avoid mineral oil, since it's a common culprit behind clogged pores.
Beyond that, it's always great to use a cleanser that contains antioxidants and soothing ingredients, like calendula, rose, or green tea. Oily skin types can benefit from using a formula with clay or charcoal. As for ingredients that treat acne directly, BHA and tea tree oil do an amazing job of clearing pores and minimizing breakouts, but are likely to irritate super sensitive skin.
If the thought of carefully reading the label of every cleanser you can get your hands on terrifies you, I suggest starting here. These nine gentle cleansers help keep sensitive, acne prone skin clean, healthy, and clear.