9 Of The Warmest Leggings You Can Buy On Amazon — In Every Style & Color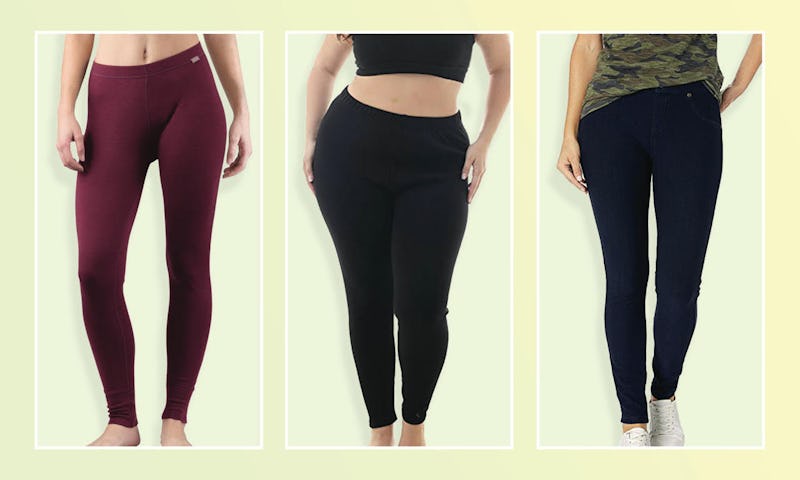 Bustle/Amazon
Leggings are the epitome of comfort and versatility. When cooler weather hits, a good pair of warm leggings can keep your legs toasty, whether you're out for a run or enjoying a night on the town. The warmest leggings are those that have a little extra thickness to them or are lined with a cozy material like fleece.
Wool leggings are great for layering under clothes if you're hitting the slopes or going on a hike. Leggings designed for working out are made with a moisture-wicking fabric to keep you from sweating too much. These tend to have a little more compression than others, meaning they hold their shape longer. Non-compression kinds may start to sag after wearing, but often return to their normal shape with a quick wash.
If you plan to be active, a pair of high-waisted leggings are designed to stay in place, even with lots of movement. These are great for both exercising or if you're constantly on the go.
Another thing to consider when choosing leggings is whether they are opaque. The higher the opaqueness, the less see-through they are, so you can wear them with your favorite sweater without feeling exposed.
When it comes to legwear, though, don't be daunted by the term "one size fits all." Those that claim to be "one size" tend to have more elasticity so they actually do fit a range of body types.
The warmest leggings come in a variety of styles and sizes that range from yoga pants to more dressy kinds, and we've curated the nine best from Amazon below.