Sessions Faces An Ethics Complaint From The ACLU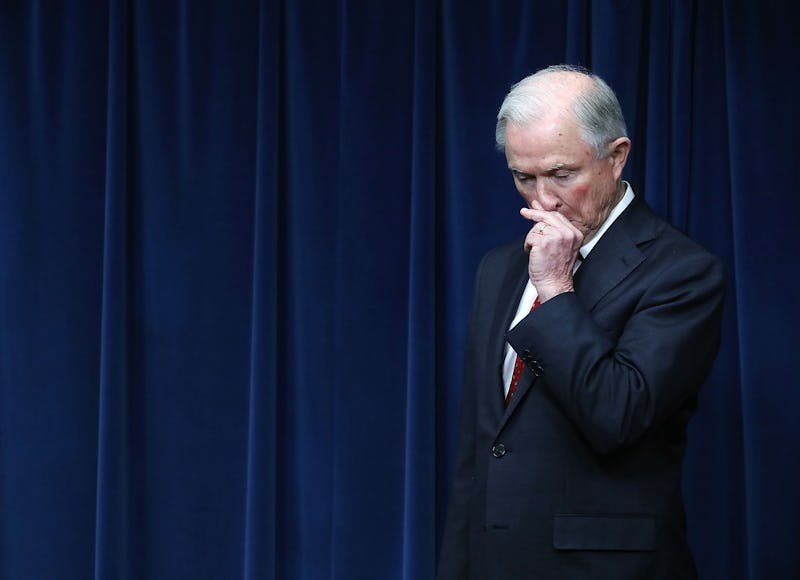 Mark Wilson/Getty Images News/Getty Images
Embattled Attorney General Jeff Sessions has been resisting calls from Democrats to resign, but right now, he's got a whole new problem on his hands: The ACLU filed an ethics complaint against Sessions with the Alabama State Bar, arguing that he made false statements during his Senate confirmation hearing and that the bar should "take any appropriate disciplinary action against Mr. Sessions." Sessions' spokeswoman hasn't returned Bustle's request for comment.
In its complaint, the ACLU wrote:
Contradicting Mr. Sessions' clear statement [at his confirmation hearing] that 'I did not have communications with the Russians' and his subsequent written statement, the Washington Post reported on March 1, 2017 that Mr. Sessions had met twice last year with Russian Ambassador to the United States Sergey Kislyak, including a private meeting in Sessions' Washington office in September. In a statement issued later the same day, Attorney General Sessions did not dispute that the meetings took place, but instead stated that he did not discuss the campaign with the ambassador.
That is, indeed, what happened. Sessions stated unequivocally during his confirmation hearings that he had no communications with the Russians; then, following the Post report stating that this wasn't true, he attempted to backtrack, retroactively adding the qualifier, "to discuss issues of the campaign," to the claim he made during his confirmation.
In a subsequent press conference, Sessions defended himself, insisting that the answer he gave to the Senate "was honest and correct as I understood it at the time." Nevertheless, he recused himself from any future investigations into the 2016 election.
In its complaint, the ACLU didn't state exactly what action it wants taken against Sessions. However, the Alabama State Bar is responsible for licensing lawyers in the state, so it could conceivably revoke Sessions' license to practice law — that is, disbar him — if it saw fit.
"False testimony made under oath is one of the most serious ethical offenses a lawyer can make and one any state bar should investigate vigorously," said ACLU National Political Director Faiz Shakir said in a statement. "Alabamians and Americans from all walks of life should be assured that the organizations responsible for regulating lawyers in their state takes ethical violations seriously — no matter how powerful that lawyer may be."
Congressional Democrats, including Sen. Elizabeth Warren and House Minority Leader Nancy Pelosi, have demanded that Sessions resign, but he has so far refused those demands.