'The Night Manager' Season 2 Involves A Major Cast Shake-up & OMG, We Can't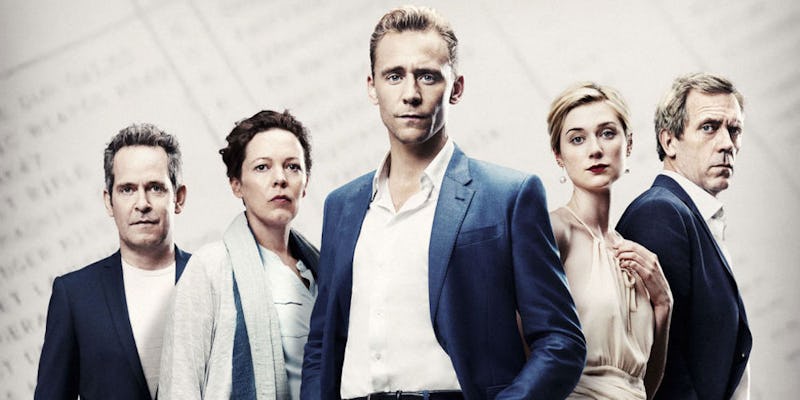 BBC
Fans of the BBC's 2016 spy thriller The Night Manager will be thrilled to hear news that a second season is officially in the works. Based on John le Carré's famous 1993 novel of the same title, it follows the adventure of luxury hotel night manager and former British soldier, Jonathan Pine (Tom Hiddleston), who is recruited as a spy to go undercover and expose a billionaire arms dealer. So will Tom Hiddleston be in The Night Manager Season 2?
Back in 2017, a possible second season was first confirmed to be in development by director, Susanne Bier, however, she explained it may take some time. After announcing that a second series was "slowly being developed" for the BBC and AMC, she told Broadcast: "We all very much want to do a season two, but the thing we absolutely do not want is to do something that does not live up to the level of season one. That would be a really bad idea."
Following this, speculation around which original cast members would return for the sequel began to surface. And, yeah, it looks like there's a lot of wiggle room.
The first series of The Night Manager featured a dazzling cast, including the likes of Hiddleston (Pine), Olivia Colman (Angela Burr), Elizabeth Debicki (Jed), Hugh Laurie (Richard Roper), and Tom Hollander (Corky). But, which of these mega stars will be returning come series two?
Well, certainly not Tom Hollander. Indeed, I for one would be very surprised if Corky (Hollander) was to resurrect from the grave in time for The Night Manager Season 2, as he was last featured on the series being killed by Pine (Hiddleston). The end of Season 1 also cast doubt over the fate of Roper (Laurie), as viewers left him in the company of some pretty displeased arms dealers. Nonetheless, there is every possibility that — since he wasn't killed on screen — Roper could have lived up to his namesake and pulled himself out of that hairy situation just in time for a second run. So, who else could be returning?
Well, one would assume Pine (Hiddleston) will definitely make an appearance in The Night Manager's second series. Deadline previously reported that Hiddleston said he would consider a second series, so fingers crossed. Nonetheless, there is always the possibility the show's writers could opt to follow a different protagonist altogether. Indeed, with Le Carré and his source material both out for Series 2, there is the possibility a new protagonist will emerge. Thus, Hiddleston's return — while likely — is far from a safe bet this early into development.
If Pine was to return, however, viewers would surely like to see the continuation of his blossoming relationship with Jed (Debicki), which is a strong indication Debicki will also return for another series. The possibility of Debicki's Season 2 return was also hinted at by the actress herself during a recent interview with Radio Times, where she admitted to having some knowledge of a second series. "I think [a sequel] might be in the works, yeah," she told the magazine.
But, will The Night Manager's only other female lead return?
While Angela (Colman) did survive the first series of The Night Manager, there's no guarantee she'll stick around for Season 2. Especially since Colman will be pretty busy with other projects. Indeed, earlier this year, it was confirmed that the actress will replace Claire Foy as Queen Elizabeth in the Emmy-winning Netflix series, The Crown. And, speaking to Radio Times previously, Colman confirmed she starts filming on The Crown this month, which could make a return to The Night Manager unlikely. But relax, folks. Some of the original cast will definitely be returning for a second run.
Speaking to the Daily Mail's Event magazine, The Night Manager screenwriter Charles Cumming confirmed that le Carré has "given his blessing to the project." He said: "Le Carré has never allowed one of his stories to have a [film or TV] sequel that is not based on a novel. So, our job is to write a season that's going to be even better than the first one, but also stay faithful to the tone of the world that was created by le Carré and to the characters."
Nonetheless, during the same interview, Cumming also confirmed some of the original cast would be sitting this series out. "Some characters that the audience know and love will be returning, other will not," he added.
So, what's the overall verdict on this cast shake-up?
Well, The Night Manager was a huge success for BBC One when it aired back in 2016, garnering critical praise — 30 awards nominations and 20 wins, including Golden Globes and Emmys — as well as proving a hit with viewers. Indeed, Deadline reports an average 6.3 million viewers tuned in to watch the six-episode series.
Considering its success the first time around, I'd be pretty surprised if any of the original The Night Manager cast members are reluctant to sign on for another run. Nonetheless, whether their respective characters will be relevant to The Night Manager Season 2 plot is all in the hands of the screenwriters, so watch this space.