The Actor Who Plays 'Outlander's Aunt Jocasta Also Makes Some Pretty Great Music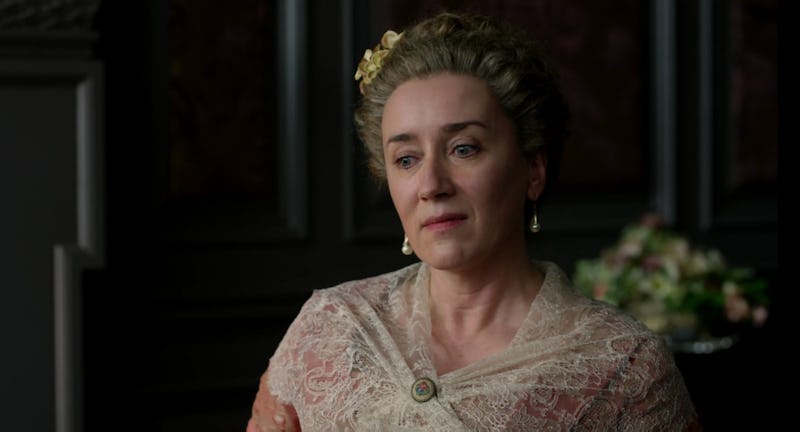 Outlander/Starz/Amazon Prime Video
Outlander's Jamie Fraser thought he'd finally caught a break when he landed in colonial America and connected with his Aunt Jocasta. But what Fraser doesn't know, is that, well, this is colonial America, and Jocasta isn't as friendly as she makes out to be. The actress who plays Outlander's Aunt Jocasta, Maria Doyle Kennedy, is hauntingly good. Despite being new to the show, she's already made a quietly menacing lasting impression as a slave owner in Carolina. You might recognise her from several other previous roles, but what you might not know is that the actress who plays Jacanta also makes some pretty great music.
If you've been watching Maria Doyle Kennedy as Aunt Jocasta on Outlander, you might have been thinking "ah, where's she from?" You might recognise her from Orphan Black, in which she played the tough Siobhan Sadler AKA Mrs S. Or maybe Kennedy's face rings a bell because you watched The Tudors back in the day. She played Queen Catherine of Aragon — so that's where you might have seen those steely blue eyes and that even steelier determination. When she's not acting, she's playing music, and if you recognise her voice, it may be because you heard it on her gorgeous rendition of Nickelback's "How You Remind Me." But her own music is even better.
While not everyone will have listened to Kennedy, it seems like anyone who's had the good fortune of discovering her has nothing but very high praise. She's often referred to as one of Ireland's best singers, with Irish music magazine Hot Press calling her one of Ireland's "best-kept secrets," as well as one of their "greatest vocalists" back in April 2016, following the release of her sixth album Mutter's Daughter. While BBC music's Andy Fife gushed about how Kennedy's "transcendence sets her apart from the avalanche of female singer-songwriters," when he reviewed her previous album Sing in 2015.
She released her last album in 2017, which was self titled, and held no bars back. According to a press release, her seventh studio album first got off the ground following The Irish Referendum of 2015, when the country voted to finally legalise same sex marriage. It inspired the first song for the album — "Pride" — which celebrated the country's decision, and should be one for your Pride playlist next year.
The cast of Outlander seem to be pretty in awe of her. "Maria is incredible, really good to work with," Heughan told Radio Times, "and for Jamie it's such a huge part of his life to meet her, not only because she's his aunt but actually because of the way she looks," he added. While Caitriona Balfe, who plays Claire Fraser, told Access Hollywood that she was pleased to have a fellow Irish around. "Always good to have them on set," she said, while also opining that "She's incredible as Aunt Jocasta, she's just got such a gravitas about her."
Make sure you see for yourself. And if you haven't already started, you've also got several albums of Kennedy's to catch up with.