'The Age Of Miracles' Is The Book To Read If You've Given Up On Dystopian Novels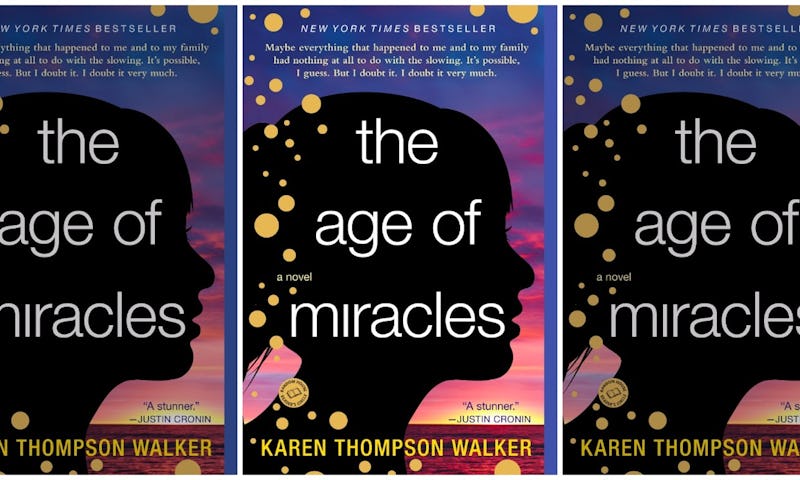 When I first read The Age of Miracles back in 2012, the bookish community was still in the midst of the dystopian days of yore. After all, the final book in the Divergent trilogy had not yet been released, let alone the final Hunger Games film. Everyone was still highly invested in these kick-ass teen girls taking on their politically corrupt worlds (and their many obsession-worthy love triangles.) But, as trends often do, dystopians eventually fell to the wayside in favor of other genres and movements, and I was admittedly among the group that was decidedly happy about this particular shift.
It felt like we were all ready for something different, and any post-apocalyptic books that have made waves in recent years (from Emily St. John Mandel's astounding Station Eleven to Ernest Cline's popular Ready Player One) have taken the concept to places both intriguing and unfamiliar. But I am still convinced that were I to pick up Karen Thompson Walker's book today for the first time, I would still love it as much as I did back then, if not more. And even if you think you're totally done with the dystopian genre, I can't recommend giving The Age of Miracles a read more highly.
"It still amazes me how little we really knew. . . . Maybe everything that happened to me and my family had nothing at all to do with the slowing. It's possible, I guess. But I doubt it. I doubt it very much."
On a seemingly ordinary Saturday in a California suburb, 11-year-old Julia and her family awake to discover, along with the rest of the world, that the rotation of the earth has suddenly begun to slow. The days and nights grow longer and longer, gravity is affected, and the environment is thrown into disarray.
The Age of Miracles by Karen Thompson Walker, $10, Amazon
Yet as she struggles to navigate an ever-shifting landscape, Julia is also coping with the normal disasters of everyday life—the fissures in her parents' marriage, the loss of old friends, the hopeful anguish of first love, and the bizarre behavior of her grandfather who, convinced of a government conspiracy, spends his days obsessively cataloging his possessions. But as Julia adjusts to the new normal, the slowing inexorably continues.
And while The Age of Miracles takes place in an alternate reality where the world seems, for all intents and purposes, to be ending (or is at least becoming unrecognizably changed forever), it is more than anything, a coming-of-age story. A story about the complex relationships between family and friends, and the ways we all change within and without those structures as we get older. It is a beautifully written and astonishingly well-crafted take on one girl's attempt to understand herself and others in an ever-shifting, increasingly unrecognizable world; and if that's not a dystopian we can all relate to these days, I don't know what is.
And perhaps it is that which has made The Age of Miracles stay with me so strongly throughout the years: not only is Julia resilient and insightful in her narration; and the snapshot of family life that Thompson Walker weaves here so moving; but the portrayal of the very act of soldiering on even when outside forces have worked their way into your life — that is maybe the most relatable aspect of this story.
The idea that life can go on despite it all, and that we have to find a way to soldier on with it. The reality that nothing is stagnant, that people will surprise you, that nothing is quite as life-altering as it is when you are 13-years-old...you'll find all of those reminders within these delicately crafted pages. And if Julia's story doesn't make you want to get back to the genre you abandoned five years ago, nothing will.