Why 'I Love Dick' Banished Men From The Writers Room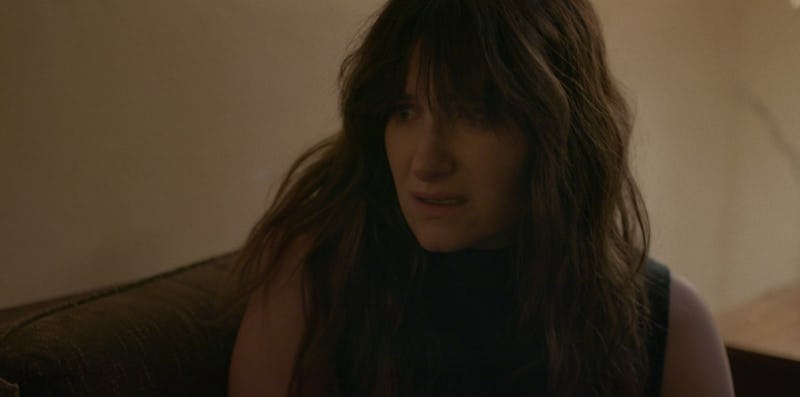 Amazon Studios
Establishing itself as a revolutionary and welcome addition to TV, the Amazon series I Love Dick explores "the female gaze" through its narrative that is both written and directed exclusively by women. In doing so, I Love Dick is changing the conversation on how to represent womanhood, sexuality, and creativity.
Often women are told to play nicely alongside their male colleagues and to avoid overshadowing them. Therefore, the process of putting together this new series felt especially freeing to some of the women involved. In an interview with Variety, co-creator Jill Soloway said, "A lot of [the I Love Dick team] had been the only woman in the room [on other projects] and had tried to play the role of, 'Be game. Be funny. Don't offend. Be careful what you say.' So everyone got really loose really fast."
This cultural norm also translates to sexuality, which is exhibited through Chris's (Kathryn Hahn) aggressive attempts to get Dick's (Kevin Bacon) attention. While I Love Dick is a story about Chris's obsession with Dick, his character is also representative of a sexual and creative freedom that often eludes women. Chris wants Dick to find her intelligent, desirable and artistic, but he rejects her on every count.
As women struggle to find their voices within the male-dominated creative space of TV, assembling an all-women writer's room can be celebrated as a win for feminism. "I Love Dick is about the feminist movement, and it's about the female gaze, and it's about toppling the patriarchy, and saying 'suck it' to all men who would ask women not to have their loudest voice. The show is a tool of the matriarchal revolution," Soloway told Variety in another interview.
In the second episode, (directed by Kimberly Peirce and written by co-creator Sarah Gubbins), Chris visits Dick's class to share her film with him, and the viewer notices that Chris is desperate not just for a sexual connection with Dick, but also for a creative connection. When she shows Dick her film and he bends down to view it, she stands behind him and strokes his hair. This forward gesture makes him uncomfortable and her attempts to speak with Dick artist-to-artist fail as he informs her that the work just isn't "for him."
In another scene, Toby (India Menuez) describes her scholarship of hardcore pornography to Chris's husband Sylvère. Smirking, he responds with, "They give a Guggenheim for that?" He then proceeds to tell Toby that she is too young and beautiful to pursue this field of study. Sylvère clearly has a sexual interest in Toby, but when she rejects him (rightly so) for his behavior, Sylvere questions coming to Marfa at all.
While the first episode introduces Chris's lust for Dick's rugged artist persona, the second episode presents new dichotomy: Chris and Sylvère were both rejected, but perceive it differently. Sylvère blames Toby and the town for his rejection — they don't understand his brilliance and as an older man, he felt Toby could benefit from his unsolicited advice and advances. In contrast, Chris is too forward and too combative in her conversation with Dick, which she feels is what caused him to reject her.
Through Chris's aggressive, yet honest need for Dick to notice her as a woman, the audience gets to see a female protagonist take control of her sexuality. In an interview with Nylon, Soloway said, "But some of the things that I think are markers of the female gaze is that you put the camera in the place of the feeling or the desire or the need — especially of the female protagonist."
Soloway's female gaze is helpful in understanding the plight of the show's female protagonists. In these two specific scenes, Chris and Toby's brilliance is related closely to whether or not the men in the scenes find them to be desirable. Chris's films lack depth and her personality is too brash for Dick, and Toby is too young and beautiful to study explicit forms of pornography.
After meeting with Dick, Chris takes out her frustration on Devon (Roberta Colindrez), yelling that women are "raised to be invisible" which is why they can never be artists. Inspired by this conversation Devon begins to write a play, describing it to her friends like so: "It's about a woman wanting to become something, but she hates herself."
This self-loathing is an interesting comment in a show that focuses on female-driven talent. It is the outdated, but still very prominent, belief that women can never be the intellectual, sexual, or creative equal to their male colleagues.
One of the most commonly expressed concerns about an all-female creative team is the portrayal of men, usually by men. "Like, 'Whoa, hey, how are you going to write for me?' And the truth is that men have been doing that for years," Bacon told USA Today. "I honestly believe at the end of show, that's a room of women that wrote way more complex and interesting male characters than I've seen written by men."
For a show that believes in redistributing female conventions of sexuality through Soloway and Gubbin's definitions of the female gaze, a hyper-masculine character like Dick could have been problematic. Gubbins told The Ringer, "We have this opportunity to either wipe him out, which seems insensitive and uninteresting, or to make him a compelling human being who can participate in a new way in this female gaze."
In the case of I Love Dick, female creativity is tied closely to sexuality. Soloway commented to Vox on one of the show's directors, Andrea Arnold: "Something about the way she directs and uses the camera speaks to femaleness and hunger and desire and vulnerability in a way that I hadn't put together for myself."
While Peak TV offers a diverse roster of shows, I Love Dick is challenging the social convention that female-driven narratives aren't universal or necessary. Here's hoping this newest tool of the matriarchal revolution inspires a trend of female-led creative teams.